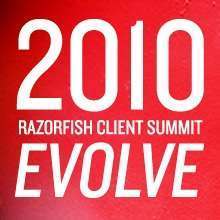 The role of a CMO is drastically different than even five years ago. Today more than ever, CMOs must think like business leaders, in addition to marketing executives
New York, NY (PRWEB) November 1, 2010 -
More than 650 marketing executives from around the world shared ideas about transformational change in business, communication and technology at the 10th Annual Razorfish Client Summit, held on October 13-14 in Boston.
The two-day agenda included C-level speakers from both large global brands such as Best Buy, Mercedes-Benz and Nike, as well as up-and-coming stars like Skillet Street Food in Seattle. Presenters, which ranged from Best Buy CEO Brian Dunn to JCPenney CMO Mike Boylson, discussed how effective storytelling, risk-taking and experimentation are crucial to evolving a company culture and brand.
As host of the Client Summit, Razorfish CEO Bob Lord challenged CMOs to get comfortable with constant change. "The role of a CMO is drastically different than even five years ago. Today more than ever, CMOs must think like business leaders, in addition to marketing executives," said Lord. He urged CMOs, as a key to this transformation, to become savvier about employing technology to bring their brands to life.
"The Summit brings together thought leaders to share first-hand experiences of how they have successfully reinvented themselves and their businesses, in order to challenge and inspire our audience to do the same," Lord said.
Speakers presented examples of what it means to evolve a brand. Kerri Hoyt-Pack, global media director at Nike, talked about how Nike is moving beyond traditional marketing tactics to connect with consumers in more intimate ways. Eric Jillard, director of digital marketing at Mercedes-Benz, shared how Mercedes has worked with Razorfish used long-form storytelling and immersive experiences to launch new automobile lines and refresh the Mercedes brand. Brian Dunn discussed how Best Buy empowers its employees with social media to make its brand more personal and authentic.
Jillard, commenting on the Client Summit, said, "Razorfish helps brands understand how to leverage technology and emerging digital channels to connect with consumers. The Client Summit is a great example of how Razorfish draws upon the best and brightest in order to deliver superior service to its clients."
The Client Summit also educated attendees about the latest technologies and marketing channels available to businesses in its Marketing Lab. The Lab, which is the interactive, idea center of the Summit, featured technologies such as interactive TV, mobile applications and gesture-based gaming devices. In addition, Razorfish hosted several social media applications throughout the Summit including a mobile site, Foursquare specials at nearby restaurants and a Twitter contest.
Videos of the speakers' presentations can be found at http://www.razorfish.com/clientsummit10.
About Razorfish
Razorfish creates experiences that build businesses. As one of the largest interactive marketing and technology companies in the world, Razorfish helps its clients build better brands by delivering business results through customer experiences. Razorfish combines the best thought leadership of the consulting world with the leading capabilities of the marketing services industry to support our clients' business needs, such as launching new products, repositioning a brand or participating in the social world. With a demonstrated commitment to innovation, Razorfish continues to cultivate our expertise in Social Influence Marketing, emerging media, creative design, analytics, technology and user experience. Razorfish has offices in markets across the United States, and in Australia, Brazil, China, France, Germany, Japan, Spain, Singapore and the United Kingdom. Clients include Carnival Cruise Lines, MillerCoors, Levi Strauss & Co., McDonald's and Starwood Hotels. With sister agencies Starcom MediaVest, ZenithOptimedia, Denuo and Digitas, Razorfish is part of Publicis Groupe's VivaKi, a global digital knowledge and resource center. Visit http://www.razorfish.com for more information. Follow Razorfish on Twitter at @razorfish.
###