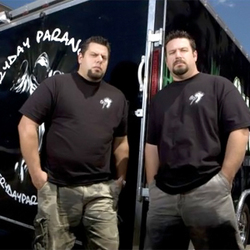 The paranormal community whose interests range from cryptozoology to UFO's is a perfect fit for a micro social media network
Raleigh, NC (PRWEB) November 2, 2010
Invixis Media Systems, with offices in Raleigh, NC, and Franklin, OH, announced as its first major client, Brad and Barry Klinge from the Discovery Channel show Ghost Lab.
"We are proud to be working with Brad and Barry to develop the most comprehensive, paranormal social network on the web. At EverydayParanormal.com members can interact with Brad and Barry Klinge, the founders of Everyday Paranormal, as they travel the country using some of the world's most sophisticated equipment to gather powerful paranormal evidence," said company co-founder Thomas Leach.
With the proliferation of social networks, why would a company choose to jump into this space?
Two reasons - As evidenced by the 2008 article at Mashable and carrying through to the October 2010 article at Market Watch regarding Pets Places, advertisers are interested in reaching consumers in niche social networks.
"Our primary focus is micro social rather than macro social. With Twitter, Facebook, Myspace and the like, the macro social space is already saturated. In contrast we focus on client owned social networks with strong brand or niche loyalty. The paranormal community whose interests range from cryptozoology to UFO's is a perfect fit for a micro social media network," said Chris Potoski, Invixis Media co-founder.
The second reason is ownership of data. On this issue, company co-founder, Chris Potoski is passionate, stating, "We provide our clients complete ownership of the social network data and software. While a groupie running a Lady Gaga fan network on Ning does not care that the network's data is locked up in Ning's system, organizations such as sports franchises and educational institutions need to keep their communication systems and content much closer to the vest. Corporations often need to know that their data is safe, under their control and trackable for dependability, legal and most importantly financial reasons.
"Regardless of the relationship between the Klinge's and Discovery or the Klinge's and Invixis Media Systems, Brad and Barry as well as the growing community at EverydayParanormal.com can take comfort in knowing that the community ultimately belongs to the Klinge's."
The paranormal social network which launched in beta on October 21, 2010 has been adding approximately 100 new members each day.
About the Company
Invixis Media Systems, a software company located in Raleigh, NC, and Franklin, OH, is a developer of focused social media solutions. The company was founded in late 2009 by Chris Potoski and Thomas Leach when they saw a need to develop targeted products and business models to fill the gaps in the social media market.
Contact:
Chris Potoski
Co Founder
Invixis Media Systems
Phone: 919-600-1431
E-Mail: chris(at)invixis(dot)com
# # #