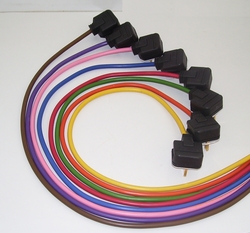 (PRWeb UK) November 1, 2010
Fastlink Data Cables are known for their innovation in the development of new cable solutions. The company's latest product line comes by popular customer request. Having received a number of queries, Fastlink has responded with a diverse range of bespoke colour coded mains cables.
The new mains cables are now available in red, yellow, green, purple, pink, blue and brown. This is a significant move away from the more traditional grey, black, white or orange varieties and is designed to allow businesses to identify the function of each cable.
By expanding the colours available within their mains cable selection, Fastlink will be able to help customers ensure that their electricity supply for individual machinery is clearly marked and distinguishable. Whilst this is a relatively simple innovation, it is one that could benefit thousands of businesses.
There are a whole host of environments in which this could prove to be hugely beneficial. Essentially the colour coding of mains cables will allow you to split otherwise unidentifiable wiring. Therefore if you're running a number of cables through a single source and don't want to unplug the wrong one in error, this could provide the ideal solution.
For example, if you need to reset a faulty server, you don't want to bring down a fully operational one by accident. If they had mains cables with different colours, you could easily determine which one belonged to the server in question and switch it off. Of course this would work in a variety of scenarios across any number of industries.
Fastlink Data Cables are renowned for their bespoke solutions and this tradition is continued with this new range of colour coded mains cables. Customers will be able to define the length, plug option and of course the colour required. There's no minimum order either, so there's no need to buy in bulk if it's not necessary.
To find out more about the new range of mains and power leads visit the Fastlink Data Cables website, http://www.fastlink.co.uk, or call 01793 512251.
About Fastlink Data Cables
Established in 1993, Fastlink Data Cables have developed a reputation for innovation and quality within the industry. The Swindon based company specialise in bespoke cable design and manufacture. They are also a major reseller and distributor of cable products. Their range includes leads for computer networks, fibre optic and coax cables.
# # #