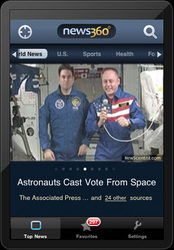 News-snacking for the analyst and the everyman.
Moscow, Russia (PRWEB) November 3, 2010
News360, the recently launched innovative news aggregator by News360 Inc., remains among the Top 5 Free News Apps in the iTunes App Store. The free application uses sophisticated linguistic technology to push an unlimited number of impactful global and GPS-localized news to users. With dazzling "flip-thru" photos and headlines leading to dossiers and related stories on hyperlinked people, places and brands, this reader is news-snacking for the analyst and the everyman.
"We're thrilled to see users so instantly at home with our product," said Roman Karachinsky, Chief Business Development Officer, "In just five days since being featured we've seen more than 35,000 downloads and glowing feedback on our visual approach to news."
As its growing fan base demonstrates, News360's all-visual approach leads to more choice. This design philosophy – both on Apple's iOS platform and the recently-released Windows Phone 7 by Microsoft – is reflected in every aspect of the News360 interface:

Vivid, editorial photography and bold headlines in landscape mode quickly communicate a story's emotional appeal 
Articles from 300+ premium news sites (from sites of newspapers and magazines to internet-only sources) offer multiple takes on a single story
Highlighted and hyperlinked news objects within the text lead to Wikipedia-fed research material
"Favorites" custom-tracks a user's interest from among 100,000 news objects (e.g., companies, people, brands)
 
Pricing and Availability:
News360 is free and available worldwide through the iTunes App Store, and the Zune Marketplace.
 
News360 Inc. is a small privately-held company dedicated to helping individuals gather and experience personalized news using advanced linguistic metadata analysis and scientific algorithms.
###