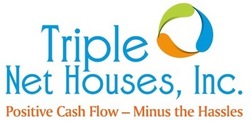 You get the benefits of investing in real estate without the hassles generally associated with being a landlord
Dayton, OH (Vocus) November 1, 2010
Today's real estate market presents a favorable time to buy homes as investment properties. Interest rates are low, and the number of foreclosures is high, making numerous bank-owned properties available for purchase at bargain basement prices. Also, with so many foreclosures, and the stringent requirements to qualify for a mortgage, there is an ample supply of renters.
Yet, many prospective investment property owners are still hesitant to buy homes because of the perceived hassles of finding and retaining tenants, receiving timely rental payments and responding to and paying for maintenance issues. Recognizing this, seasoned real estate broker Pete Julian believed that reducing the risks and offering a fixed monthly income to an investor would be appealing- thus Triple Net Houses was created.
Julian founded the company in late 2007 after he identified a niche for using the triple net lease concept, which is typically associated with commercial real estate, in residential real estate investments. Julian, who started his career in real estate in 1979, believed that more people would be interested in owning rental homes as investments if the process was simplified.
The Triple Net Houses concept is similar to an investor buying a bond, Julian says, since he or she is getting a fixed return and a set payment for 10 years.
Simply put, Triple Net Houses sells a rental property to an investor and then leases the property back for 10 years. The result is predictable cash flow, automatic rental deposits, no missed payments, no headaches of tenant interaction and no maintenance expenses. Professional management by Triple Net Houses is included in the plan.
"You get the benefits of investing in real estate without the hassles generally associated with being a landlord," Julian explained. "Since you pay no operating expenses, you will know in advance what your cash flow will be every month for 10 years. Our company does all the work. We secure tenants, pay real estate taxes and insurance and handle and pay for all maintenance."
Triple Net Houses is the only company of its kind in residential real estate, Julian believes.
Currently, Triple Net Houses has 150 properties and expects to add 10 per month in 2011, Julian projects. The company has seven full-time employees in its office and also works with local contractors whose lone client is Triple Net Houses.
"Our concept has been well-received and has allowed people to own investment property who otherwise would not have considered it because of all the perceived headaches," Julian said. "We believe we are opening the door for more people to become real estate investors, and there is room for tremendous growth for our company."
Media Contact:
Jeff Louderback
Write Perceptions PR
jeff(at)writeperceptions(dot)net
407-474-6149
# # #