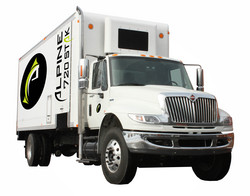 Silver Spring MD (PRWEB) November 1, 2010
ALPINE SHREDDERS LIMITED, the industry leading mobile shredding equipment manufacturer, will be featured and have its manufacturing process profiled on the very popular cable television program "How It's Made."
"How It's Made," shown exclusively on the Discovery Channel network, is a very popular show that seeks to demystify how complex and simple products and items are made. From pencils to toothpicks to light bulbs and now to shred trucks, the iconic "How It's Made" show is viewed in more than 180 countries and is translated into many different languages.
The episode featuring ALPINE SHREDDERS LIMITED and the truck and shredder manufacturing process will be aired in the United States on Discovery Science Channel, Dec. 3, at 9 p.m. Eastern time. No date has been set for Canada as of this press release. Viewers are encouraged to check their schedule for air dates and times and to refer to the website http://science.discovery.com for further information.
Alpine has emerged as the secure document services industry's most progressive truck manufacturer, providing SIMPLE – SOLID – RELIABLE mobile shredding truck and has changed an industry's perception of what a shred truck can be. Alpine has experienced explosive growth by developing equipment that requires virtually no maintenance and is simple to operate. With hundreds of clients in the USA, Canada and Puerto Rico, the future is bright with new product launches planned well into 2011 and beyond.
"It is such an honor to be considered for and become a part of this very successful series," states Michael Oden, director of sales and marketing for Alpine. "We are thrilled to be featured on one of the most-watched technical shows on television today and to see our secure document industry exposed in such a positive way."
The four-man crew from the production company MAJ Media spent two full days shooting film in Alpine's truck manufacturing and machining facilities, and the show's original developer, Gabriel Hoss, was on hand personally to direct the segment and editing.
"Alpine, the only shred truck manufacturer to build the entire product, including truck body, shredder, unload system and controls, was the ideal subject," boasts Peter Viveen, Alpine president and COO. "It was quite the effort to partially build and stage different segments of production—but well worth it. Our staff and our stakeholders are excited and proud to be a part of this great show."
About ALPINE SHREDDERS LIMITED
Alpine is the leading manufacturer of secure document shredding (SDS) trucks and land based document shredding systems throughout North America. Members of National Association for Information Destruction and Canadian Transportation Equipment Association, Alpine has shipped equipment from the Caribbean to San Diego, the Yukon to Florida and all points in between from its manufacturing facility in Kitchener, Ontario, Canada.
Contact: Michael Oden
Phone: 866.246.5634
E-Mail: moden(at)alpineshredders(dot)com
Web: http://www.alpineshredders.com
Address: 30 Alpine Ct, Kitchener, ON
# # #