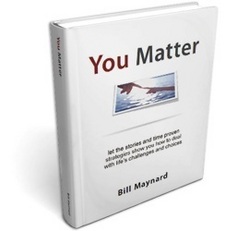 ...have your own self-search experiences and learn how to deal with the challenges in your life
Kirkland, WA (PRWEB) November 9, 2010
Bill Maynard relases a new book - YOU MATTER reminds us that facing life's challenges is a continous process, and everyone can forge ahead to the best life possible. YOU MATTER is a powerful self-help resource to add to any personal library.
The launch of this book comes on the heels of the launch of Oprah Winfrey's latest project, OWN – a 24/7 cable network devoted to self-discovery. What Oprah and Bill know is that making "it" happen in life means deciding what "it" is and going for it. Bill Maynard's book is a guide to face and deal with life's challenges and choices.
YOU MATTER is based on the popular college course Bill Maynard has been teaching for the last 15 years, Leading and Living, as well as experiences gained over the time he spent as CEO of The Effectiveness Institute, a leading business and leadership development consulting company. Bill discovered that people who become better leaders of themselves in their own lives are far more likely to become better partners in their relationships and leaders in their careers.
YOU MATTER provides self-search experiences to learn how to deal with the challenges in life and how to recognize the options and the choices that will lead to living the best life! YOU MATTER is available on Amazon.Com
About the Leading and Living Course:
Over the past 15 years Bill Maynard has been teaching college students to dive deep via a personal stretch project to experience what they are truly capable of in their own lives so they can become stronger leaders in their relationships and in the work force. Students are guided to discover who they really are; identify what their greatest challenge is; then how to make real change. Students emerge as their personal best enthused about authentically leading and living their lives!
About Bill Maynard:
Bill Maynard is in the business of changing lives. He earned his doctorate in education and business administration from the University of Washington. He was the CEO of Effectiveness Institute, a leading business and leadership development consulting company he founded years ago and teacher of "Leading and Living" at Washington State University's, where he has ranked #1 teacher almost every year of the last 15 years in the College of Business.
Press Contact:
Tony Lael, 425.327.1296
###