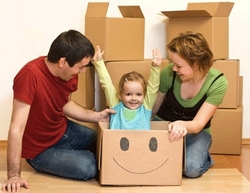 Relocation is one of the most stressful burdens one has to go through,choosing the right Movers can be a difficult process
Petersburg, VA (PRWEB) November 5, 2010
Movers Community announces new services to help make moving easier in any situation. By visiting MoversCommunity.com or calling 877-343-6421, customers will receive five free, in-home quotes from local moving companies.
Not only will using Movers Community save potential movers time and effort, but because they have an established relationship with many companies, they can offer a hefty discount to the customer. Those who use Movers Community can save up to 55% and will receive free packing materials; the website also offers special discounts for senior citizens, members of the military and handicapped individuals.
"We are providing customers with huge saving on their upcoming move by having local, reliable and licensed companies compete for their business," said Shawn Banks, sales manager at Movers Community.
Movers Community is also a great resource for education about the moving process; their blog offers helpful information and advice to any potential customer. It includes a glossary of terms used by professional movers, along with tips on how to pick the right mover, packing and relocating. Additionally, the site features direct links to pages on the following topics: long distance moving, local moving, top local real estate, truck rentals, car shipping, self storage and small moves.
"Anyone considering a move now or in the future should visit MoversCommunity.com. We provide a 100% guarantee on our service," added Mr. Banks.
For more information, contact:
Shawn A. Banks
Sales Manger
(804) 621-0721
shawn(at)moverscommunity(dot)com
###