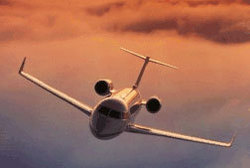 New York, NY (PRWEB) November 1, 2010
Blue Star Jets bookings have increased 30%, year-over-year, from the level seen after the 2008 market crash and the slowdown of the economy, in-line with Private Jets available for sale on the market, that are down from an all-time industry high of 18% in 2009 to the current 15%, indicating a clear trend-line toward the previous multi-year industry norm of 12%. These two trends together indicate a return towards the prior level of demand for private jet flights and aircraft ownership.
Blue Star Jets has seen an increase in demand from its customers for Private Jet Charter Flights, as flyers return to demand the luxury, conveniences, safety and security that private jet flights have to offer. Blue Star Jets also created several programs to offer more value for private flyers, like its revolutionary private jet flight sharing program to enable its clients to save up-to 50% on the cost of a private flight.
As NBAA President Ed Bolen told the 25,000 attendees at the most recent 2010 conference, "We are out of our defensive crouch.", and Blue Star Jets brokers see a similar demand pattern for private flights for jet, helicopters and turbo-props for short, medium range and long-haul flights worldwide.
According to industry statistics, more than 100 communities lost much of their commercial flights service resulting in a demand seen by Blue Star Jets brokers for private jet charters from flyers to-and-from these airports, who are far away from major commercial airport hubs.
# # #