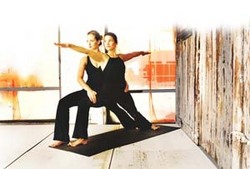 CorePower Yoga Teacher Trainings are inevitably empowering, not just through the sense of community they create, but because they empower students to find themselves
Portland, OR (Vocus) November 1, 2010
Ever thought about teaching yoga, but keep finding excuses, like time commitment and money, as to why you can't make it happen? This holiday season, CorePower Yoga, known for its invigorating and unique yoga classes, will be offering a convenient One-Week Intensive Power Yoga Teacher Training from Saturday, Dec. 5 - Sunday, Dec. 11, at its Northwest Portland studio.
The perfect excuse for a personal getaway before the holiday festivities gear into full swing, CorePower Yoga's Week-Intensive Teacher Trainings are a less expensive alternative to the 200-hour course. The programs are designed to fit into busy schedules and tight pocketbooks without forfeiting the cutting-edge curriculum or high caliber instruction of longer trainings.
"CorePower Yoga Teacher Trainings are inevitably empowering, not just through the sense of community they create, but because they empower students to find themselves," says Brandon Cox, a CorePower Yoga teacher and the Colorado Regional Director. "CorePower Yoga Teacher Trainings help students really understand what they want out of life and it's interesting that learning to teach yoga creates that change," says Cox.
For just $999, teacher trainers will:

Learn how to teach a dynamic and effective yoga class
Gain practical teaching skills
Build the confidence to teach a basic yoga class
Receive a certificate of training completion from CorePower Yoga, as well as unlimited yoga practice at CorePower Yoga studios for the duration of the training and a CorePower Yoga Teacher Training manual
CorePower Yoga's Teacher Trainings are unique in that they are exceptionally practical – we teach people how to TEACH yoga, not just the poses. CorePower Yoga Teacher Trainings employ techniques such as anatomy study and posture specific workshops for a comprehensive experience, and offer prospective instructors a nurturing team environment in which to grow and evolve as teachers and individuals.
But you don't have to want to be a teacher to participate in CorePower Yoga's Teacher Trainings. More than just postures, CorePower Yoga Teacher Trainings get to the heart of yoga. In addition to providing a place to make a career out of yoga, the training's distinctive offering allows you to take your practice to a new level, provides a broad understanding of posture mechanics and explores the deeper mental and physical side of yoga not covered in a class.
CorePower Yoga's Week-Intensive Teacher Training program is for those who are seeking a deeper understanding of themselves and their yoga practice. This proven program changes people's lives – it's an emotional experience, dramatically empowering, career enhancing and life altering. After just one week you will have transformed your physical practice as well as learned to live your yoga off your mat.
When not in class, students will have the opportunity to enjoy the holiday season in the most environmentally friendly city in the United States with plenty of free time to fit in Portland's appealing attractions.
With over 45 studios across California, Colorado, Illinois, Minnesota and Oregon, CorePower Yoga operates two yoga studios in Portland.
About CorePower Yoga
CorePower Yoga's unique and physically challenging style of heated power yoga combines energy, music, movement and community to create a one-of-a-kind yoga experience. CorePower Yoga offers a variety of classes catering to all levels including CorePower Yoga, its proprietary heated Power Yoga, Hot Yoga, Hot Power Fusion, Yoga Pilates, Yoga Sculpt, a Vinyasa flow combined with weights, and CoreRestore, a restorative yoga practice. All yoga classes encompass a wide variety of asanas, or poses, and are taught by certified yoga instructors. In addition to yoga classes, CorePower Yoga offers transformative integrated wellness programs and Teacher Trainings to empower students to live a health-focused and extraordinary life.
###