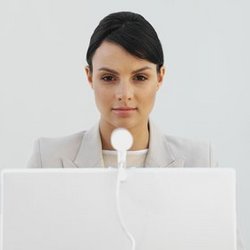 As opposed to other web conferencing options, Auralink's video quality made me feel as though I was sitting across the table with my team.
Malvern, PA (PRWEB) November 1, 2010
Cenero, a service-focused audio visual and conferencing solutions company has announced the availability of a new desk top video conferencing solution, Auralink. Auralink is an HD quality, web based video conferencing solution designed to make corporate video communications easy to use and cost effective to deploy.
Over the past decade, Cenero has built a service-focused business model delivering audio visual solutions to large corporations and institutions. With Auralink, Cenero focuses their customer service business model to the application audio visual market.
"Our customers' use of video conferencing technology has exploded in the past year. Shrinking corporate travel budgets and increased productivity demands have forced companies to work with a focus on gaining greater efficiencies. With Auralink we are addressing the need for companies to meet at the desk top and beyond even down to the mobile device. Auralink users can participate in high quality video conferences regardless of location without having to purchase expensive and often short lived hardware" says Rob Gilfillan, President of Cenero.
Auralink is a feature rich subscription based service that allows users to connect via video from virtually anywhere. Auralink users can connect to legacy video conferencing equipment, share applications, add audio only participants and record meetings. The applications are extensive and Auralink has had a positive impact for Cenero clients.
"A few months ago, I was stranded in London due to the volcanic ash" recalls Drew Morrisroe of CTN Solutions. "I chose to use Auralink to remain in contact with my personnel because the quality of the hi-definition video is how I would expect a corporate video conference to look. As opposed to other web conferencing options, Auralink's video quality made me feel as though I was sitting across the table with my team."
"The technology behind Auralink allows us to provide a solution that fits corporate demand for a high quality video experience" says Michael Cosgrave, Auralink Product Manager. "The quality of the video in an Auralink call is far superior to that of Skype or other similar online standard definition platforms. Auralink allows users to focus on their meeting not any technology short comings."
For more information and a free trial of Auralink, go to http://www.auralink.com
About Cenero
Cenero is a privately held service-focused audio visual and conferencing solutions communications company located in greater Philadelphia. Cenero helps organizations gain a competitive edge by leveraging audio visual and conferencing technology as productive tools. Cenero provides systems design, installation, managed services and event services for organizations throughout North America. Cenero's extensive knowledge of audio visual systems, video conferencing and network infrastructure delivers solutions that improve communication and drive efficiency throughout an organization. For more information regarding Cenero's products and services, call (610) 344-7007 or visit their website at http://www.cenero.com.
# # #