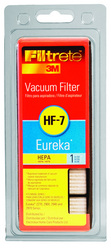 It's easy to procrastinate changing household items that need attention
Bloomington, IL (Vocus) November 1, 2010
If the average person can store seven ideas in their short-term memory,* where do the rest go? Despite the best attempts to stay organized, it's difficult to remember everything. Luckily Daylight Saving Time has evolved into a "reminder" holiday which provides two built-in times of the year to take stock of household items that may need a change.
"It's easy to procrastinate changing household items that need attention," says Ben Hankins, associate marketing manager for Filtrete™ Vacuum Accessories. "Instead of using guesswork, we suggest that people use Daylight Saving Time to check their household items, like vacuum accessories, and replace necessary parts."
Developed for the most popular vacuum brands, including Eureka®, Hoover®, Bissell® and Dirt Devil®, Filtrete™ Vacuum Accessories feature Micro Allergen filtration to keep dust, pet dander, allergens, mold and bacteria from being released into the air. Filtrete™ Micro Allergen bags and filters capture 94 percent of dust, pet dander, allergens, mold and bacteria. Filtrete™ HEPA bags and filters offer improved filtration and capture 99.97 percent of the particles.
"Sometimes people mistake vacuums as 'broken' when really the problem is easily fixable, like changing a vacuum's bag, filter or belt," said Hankins. "If consumers are diligent about replacing their vacuum accessories on a regular basis – at least twice a year at Daylight Saving Time – they can save a lot of time and money."
Change Vacuum Accessories, Alarms
On November 7, use Daylight Saving Time as a prompt to check on the following household products, which require regular replacement:

Vacuum Accessories – According to a recent Filtrete™ survey, one in five respondents said they never change their vacuum's filter or bag**. The replacement recommendation varies depending on the household's habits, but typically a vacuum bag should be changed at least once a month. Filters should be checked and replaced every six months. Replacing these parts regularly increases the vacuum's suction power and cleaning performance.
Smoke and Carbon Monoxide Alarms – Smoke alarms have life expectancies too and expire after about 10 years or 87,000 hours of service. The National Fire Protection Association (NFPA) recommends replacing batteries in both smoke and carbon monoxide alarms twice a year and checking alarms monthly using the "test" function.
"When properly maintained, a CO alarm has a life of approximately five years, after which time it should be replaced with a new unit," said Deborah Hanson, director of external affairs for First Alert.
Furnace Filters – Not all filters are created equal. If you are looking for a filter that can help clean the air you breathe by removing microscopic particles from the air passing through the filter, look for an electrostatically charged disposable filter, such as the Filtrete™ Elite Allergen Reduction filter from 3M. This filter was recently recommended as the number one do-it-yourself replacement filter by a leading consumer rating publication. For optimum performance, 3M suggests replacing disposable furnace filters every 60-90 days.
Kitchen Sponges – WebMD cites that kitchen sponges are the number one source of germs in the house. They achieve this rank because of their moist micro-crevices, which make great homes for germs. Multiple sources recommend replacing kitchen sponges once a week, and at the very least twice a month.
Toothbrushes – The ADA recommends replacing toothbrushes every three to four months or sooner if bristles begin to fray. Researchers have found that toothbrushes can hold microorganisms from mouths and the environment that can cause oral and systemic infections.
Additionally, consumers are advised to replace pillows, medication, makeup, hair brushes and sunscreen on a regular basis. Check product packaging for expiration dates and replacement guidelines.
"Like a windshield sticker reminder to change the oil in a car, Daylight Saving Time can serve as a reminder for consumers to check their household products," said Hankins.
Filtrete™ Vacuum Accessories are available at Target, Best Buy and Lowe's and start at $2.99. For more information on Filtrete products visit http://www.filtretevac.com. First Alert smoke and carbon monoxide alarms are available at retailers nationwide and start at $13.99. Consumers can visit firstalert.com for more information.
The Filtrete™ Vacuum Accessories line is manufactured for Electrolux Home Care Products, Inc. the producer of leading floor care brands Eureka®, Electrolux® and Sanitaire® in cooperation with 3M, a recognized leader in research and development that produces thousands of innovative products for dozens of diverse markets.
About Electrolux Home Care Products, Inc.
Electrolux Home Care Products, Inc. leverages consumer driven insight to manufacture and market innovative floor care products under its well-known Eureka and Electrolux consumer brands. The company also sells high-quality commercial products under its Sanitaire brand name and central vacuums made by its Electrolux Central Vacuum Systems division.
EHCP N.A. is based in Bloomington, Ill., and is a part of The Electrolux Group, the world's largest producer of appliances for kitchen, cleaning and outdoor use. Visit http://www.electroluxusa.com, http://www.eureka.com, http://www.sanitairevac.com or http://www.beamvac.com for more information.
3M and Filtrete are trademarks of 3M Company, used by Electrolux Home Care Products, Inc., under license.
© 2010 Electrolux Home Care Products, Inc.
About BRK Brands, Inc.
BRK Brands, Inc. (Aurora, IL), is a fully owned subsidiary of Jarden Corporation (Rye, NY), a leading provider of niche consumer products used in and around the home. For 50 years, BRK Brands, Inc. has been the manufacturer of First Alert®-branded home-safety products, the most trusted and recognized safety brands in America. BRK® Brands designs and develops innovative safety solutions including Tundra® Fire Extinguishing Spray, ONELINK® wireless alarms and a comprehensive line of smoke alarms, carbon monoxide alarms, fire extinguishers and escape ladders to protect what matters most. Such products are also marketed under the BRK Electronics® brand, The Professional Standard for the builder and contractor audiences. BRK Brands, Inc. products are found in more than 30 countries worldwide. For more information, visit http://www.firstalert.com or http://www.brkelectronics.com.
About Jarden Corporation
Jarden Corporation is a leading provider of niche consumer products. Jarden operates in three primary business segments through a number of well recognized brands, including: Outdoor Solutions: Abu Garcia®, Berkley®, Campingaz® and Coleman®, Fenwick®, Gulp! ®, K2®, Marker®, Marmot®, Mitchell®, Penn®, Rawlings®, Shakespeare®, Stearns®, Stren®, Trilene®, Völkl ®, and Zoot®; Consumer Solutions: Bionaire®, Crock-Pot®, FoodSaver®, Health o meter®, Holmes®, Mr. Coffee®, Oster®, Patton®, Rival®, Seal-a-Meal®, Sunbeam®, VillaWare® and White Mountain®; and Branded Consumables: Ball®, Bee®, Bicycle®, Billy Boy®, Crawford®, Diamond®, Dicon®, Fiona®, First Alert®, First Essentials®, Forster®, Hoyle®, Kerr®, Lehigh®, Leslie-Locke®, Lillo®, Loew Cornell®, Mapa®, NUK®, Pine Mountain®, Spontex® and Tigex®. Headquartered in Rye, N.Y., Jarden has over 25,000 employees worldwide. For more information, please visit http://www.jarden.com.
©2010 BRK Brands, Inc., Aurora, IL 60504. All rights reserved.
First Alert® is a registered trademark of The First Alert Trust, Aurora, IL 60504.
BRK Electronics® is a registered trademark of BRK Brands, Inc., Aurora, IL 60504.
*http://www.memorylossonline.com/glossary/memory.html
**The survey results are based on the responses of 1,000 adults in the United States who answered a telephone survey from February 11 through February 14, 2010. Results are accurate to +/-3 percent points with a 95 percent confidence level and can be generalized to the entire U.S. adult population.
For more info: http://www.pitchengine.com/lcwa/biannual-tradition-triggers-reminder-to-change-more-than-clocks/98301/
###