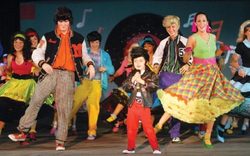 Over 100 singing and dancing roles available to local youth ages 5-25.
San Mateo, CA (PRWEB) November 1, 2010
The San Francisco Children's Musical Theater (SFCMT) announces auditions for its production of Rock-N-Roll Reunion, the ultimate all singing, all dancing 1950's and 60's musical revue! This colorful and high energy show features a hit parade of rock 'n roll classics, combined with vintage footage celebrating 1950's TV shows, commercials, movies and hilarious pop culture moments that defined an era.
Over 100 singing and dancing roles available to local youth ages 5-25.
Perform for 2000-3000 people at The Palace of Fine Arts Theater, a 1000 seat performing arts theater located in the Marina District of San Francisco. Show Dates: Feb. 19th & 20th, 2011.
Our exciting and convenient 10-week program, with "Saturday only" rehearsals, makes participation in SFCMT productions fun and easy for busy Bay Area families. Rehearsals: Dec.11th – Feb 19th, 2011. Most kids will rehearse for 1.5 - 3 hours per Saturday.
Auditions: Saturday, December 4th, 10:00am-5:00pm (by appointment)
Audition Location: King George Hotel
334 Mason Street
San Francisco, CA 94102
For more information, or to make an appointment to audition, please visit: http://www.sfcmt.com/rock-n-roll-reunion-auditions/
More about SFCMT:
Artistic Director and Founder, John Bisceglie, has directed and choreographed hundreds of community, commercial, and professional productions featuring actors of all ages. For nine years, Bisceglie held the title of Artistic Director for San Jose Parks and Recreation's Young People's Theater, and has been serving Gilroy's Community Services Department in the same capacity for the past nineteen years. As a recent recipient of numerous outstanding achievement awards from the Bay Area Theatre Critics Circle, he is thrilled to expand his colorful and elaborate children's theater productions to the San Francisco community.
All children regardless of their differences are enriched by exposure to the arts, but in these tough economic times, it's become a challenge for school districts to fund performing arts programs. SFCMT is dedicated to raising the awareness of how beneficial these programs can be for all kids. As such, SFCMT awards a limited number of scholarships for every production. Each scholarship is equivalent to one tuition charge. Those interested in applying for a scholarship can learn more on SFCMT's FAQ page.
In addition to providing an opportunity to perform in front of a supportive audience, SFCMT's program encourages teamwork, active listening, public speaking, self-confidence, respect and responsibility. SFCMT strives to create a safe, playful, and fun environment for children's musical theater to flourish.
Bisceglie and the team at SFCMT inspire kids to activate their individual creative aspirations and instill the motto that "everyone has talent and can succeed" regardless of age, experience and natural ability. Director and Founder John Bisceglie says, "It's amazing what a little responsibility, teamwork, and spotlight can do for a child. They always exceed our expectations. They are an inspiration to their friends, family, and all who see them perform."
For more information on our people, programs, and productions, please visit: http://www.sfcmt.com
Calendar Listing:
San Francisco Children's Musical Theater Auditions: Rock- N- Roll Reunion! The ultimate all singing, all dancing 1950's and 60's musical revue! Seeking kids ages 5-25 who love to sing, dance and act. Easy 10 week program with "Saturday only" rehearsals in SF. Dec.11th – Feb 19th. Show Dates: Feb.19th & 20th, 2011. Auditions, Sat. Dec. 4th, 2010. More info at http://www.sfcmt.com
# # #