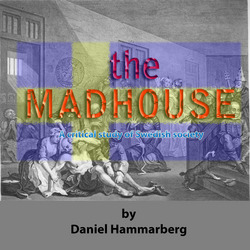 "With the U.N. Convention on the Rights of the Child, this might come to an area near you."
Sundsvall, Sweden (PRWEB) November 1, 2010
Author Daniel Hammarberg has just released a 120'000 word book on Sweden's Socialist system, providing readers with a highly insightful yet still entertaining volume on the state of life in the country today. He's plowed through media stories, government statistics, current law and its preparatory work as well as researched a number of previously unpublished stories about recent events in society in order to make for a professional product. In the past, such written works as Roland Huntford's "The New Totalitarians" have given an alternative perspective on Sweden in an era that's now history. "The Madhouse" continues in the same spirit, giving a highly up-to-date account on contemporary Swedish society, pulling no punches yet always providing references for quotes and statistics. In the Western world today, it has to be recognized that Sweden is held in high esteem, but it's the author's opinion that this is to a large extent more due to the effort the country makes in maintaining its image than any reflection on the actual state of things.
During his teen years, Daniel's family collapsed and everyone in it but he himself plunged into substance abuse, and at this time he unfortunately came into very intimate contact with the government; as the house he lived in with his mother had become a bum nest, the social services intervened in family life and Daniel became more or less a ward of the state through no fault of his own and in spite of not wanting the government in his life. As an adult, he's therefore taken a great interest in the actions of the social services and studied both its history and its ever expanding legislation and jurisdiction, very much aware of the abuses that are taking place within it.
The Swedish social services brought yet more infamy upon Sweden's name last year when they took six-year-old Domenic Johansson from his family as they were moving to India, and Daniel has personally been in contact with Domenic's father and offered both moral support as well as covering the case in his book. In Swedish media there has however been a complete blackout on the matter, and not a single printed paper has even mentioned it. A group of people from around the world headed by an American woman has made up for this though, by taking on the job of spreading word of the atrocity like no others; after Daniel learned of this, he offered his services as a guest writer on the "Friends of Domenic Johansson" blog, contributing with his knowledge of the Swedish foster care system.
Unfortunately, the Domenic case is far from unique, as Daniel points out in this blog post, and he has also been in touch with two other families whose children were taken as they attempted to escape the country, writing about their plight as well in his book. One of these families was that of Iranian-born man Esmail, whose three children Filip, Nicole and Miranda were taken at the same airport as Domenic a month earlier after an anonymous person had charged them with child neglect, and their plans to travel to Iran had to be cancelled. Their children are still in state custody after one and a half years, and neither father nor mother are allowed to see them very often.
Though perhaps a not very serious matter, an excerpt from the book can be read online on Daniel's blog or downloaded as PDF from when a government inspector came into his home to investigate how he was keeping his cats. Sweden is indeed the ultimate nanny state.
For the product description page and the table of contents, see this link.
For now, the book is only available as an E-book in the Kindle format on amazon.com, but such books can be read in a number of ways - on PC's, cell phones, iPad's etc. See this article for examples of how. A hardcopy version will be available in a matter of time.
###