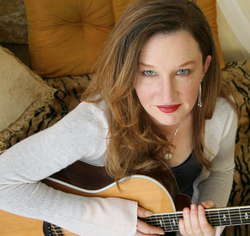 If you can play G, C, and D on the guitar, you can play every song in the book. I love hearing people say, 'Hey, even I could do that!'
Brattleboro, VT (PRWEB) November 1, 2010
Lisa McCormick, one of the lead instructors at GuitarTricks.com, has published her first book,The Easiest Holiday Songs Ever for Guitar : 12 Holiday Classics You Can Play with Just 3 Easy Chords. All songs are presented using just the chords G, C, and D.
McCormick specializes in teaching guitar to beginners and intermediates, but the book also reaches out to parents, teachers, community group members, and anyone with basic guitar skills. "If you can play G, C, and D on the guitar", McCormick says," you can play every song in the book". 
Beyond McCormick's 400+ video lessons at GuitarTricks.com, she also has an active YouTube channel, as well as her own website devoted to resources for guitar learners, GettingStartedWithGuitar.net. It was the enthusiastic response to her holiday-themed guitar lessons on YouTube that inspired the creation of this songbook and DVD.
"I knew people would enjoy having all these easy songs in one place," McCormick says. "The songbook tucks right into your guitar case. Each song comes with lyrics, chords, tablature, and standard notation, including a simple melody solo, for easy duets. The response so far has been amazingly positive. I love hearing people say, 'Just G, C, &D? Hey, even I could do that!'."
The arrangements inThe Easiest Holiday Songs Ever for Guitar can be easily adapted for ukulele, mandolin, and banjo, making it an ideal resource for music ensembles, classes, and group play-alongs.
The Easiest Holiday Songs Ever for Guitar is currently available in print and eBook versions, with an instructional DVD scheduled for release in November, 2010. The book and more information are available at GettingStartedWithGuitar.net. Requests for review copies, sample pages, and/or author interviews can be made through the contact link at the website.
A veteran instructor with leading online lesson site GuitarTricks.com, and founder of GettingStartedWithGuitar.net, Lisa McCormick's beginner-friendly video guitar lessons and instructional materials have garnered her a loyal following worldwide.
###