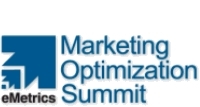 (PRWEB) November 2, 2010
Today, the eMetrics Marketing Optimization Summit announced the call for Speakers for its Toronto, Ontario conference. Taking place April 28 and 29, 2011, the Toronto event aims to build upon the success and lessons learned in 2010, a year where marketers acted with precision focus on bottom line results and measurable ROI.
Two-day Summit April 28 and 29th: Marketers, ecommerce executives, communications professionals, marketing technology managers and analysts will learn from over 40 industry experts who will share their experience and deliver real-life case studies and insights. Attendees will gain firsthand knowledge from in-depth sessions, panel discussions and technology labs.
The 2011 Toronto eMetrics Summit expands its focus to include media analytics and the new future of audience measurement. Executives in audience development, marketing science and digital advertising will share ideas, knowledge and solutions as to how media is measured in Canada and the U.S. Senior executives from global media groups will discuss new methods and technologies for measuring both content and audiences cross-media, cross-platform; they'll discuss new currencies and opportunities for measuring and monetizing content across Mobile, Web and digital TV. The Media Analytics track adds a new dimension to the Toronto eMetrics Summit, all of which is aimed at helping managers improve the results of their digital marketing and communications investment and making marketing technology more efficient. The Toronto Summit delivers five tracks over two days:
1. Digital Management
2. Media Analytics: Cross-media, Cross-platform
3. Campaigns and Acquisition Optimization
4. Site Optimization and Content Strategies
5. Social Mobile Marketing Metrics
Preconference Workshops April 26 and 27th: Marketers new to web analytics will get up to speed with the two-day WAA Base Camp Introduction to Web Analytics workshops developed by the Web Analytics Association (WAA) and taught by one of Canada's top digital marketers – Braden Hoeppner. Digital analytics managers will see greater web analytics success through improved processes and planning after taking the Road Map to Online Analytics Success training day with Stéphane Hamel, where he addresses online analytics from a managerial perspective. Communications managers and digital strategists will get a better understanding of how to build a social media and marketing plan, then measure results after taking the full-day Getting Started with Social Media workshop with Jeff Quipp, leading social media expert.
Advisory Board and Directors: The eMetrics Marketing Optimization Summit is chaired by Jim Sterne, conference founder and Chairman of the WAA. Conference Director and Advisory Board Chair is Andrea Hadley, Canadian web marketing veteran and WAA Education co-Chair. The 2011 eMetrics Toronto advisory board is comprised of the best and brightest in digital marketing and analytics, including Simon Austin, Manager, Digital Analytics, Research In Motion (RIM); Christopher Berry, VP Measurement Science, Syncapse, Patrick Glinski, Senior Strategist, Experience Architect, Idea Couture; Stéphane Hamel, Director of the WAA, educator, blogger and consultant with Immeria.net; Braden Hoeppner, Director of Web Sales, Coastal Contacts; David Jenkins, Director, Marketing Operations, BuildDirect.com; Kelly Kubrick, Founder and President, Online Authority; Alex Langshur past-president of the WAA and President and co-founder of PublicInsite; June Li, Managing Director, ClickInsight; Sionne Roberts, General Manager, Visability (Division of IT World Canada); Mike Sukmanowsky, Manager, Digital Analytics, Globe and Mail; Jacques Warren President and Founder, WAO Marketing Inc.
"When I ask attendees what they love about the eMetrics Marketing Optimization Summit, they tell me that, regardless of whether they are new to the subject matter or a seasoned pro, they always learn a ton because the presentations are relevant and use real-life examples," said Langshur. "Also, attendees appreciate the networking and opportunity to connect to the larger analytics community."
Call for Sessions and Speakers
The Toronto eMetrics Marketing Optimization Summit call for sessions and speakers will remain open until December 12th, 2010. Proposals may be submitted via the online form.
"The strength of the eMetrics Marketing Optimization Summit continues to be speakers who are willing to share specific examples of lessons learned, best practices, what works and even what doesn't, along with the surprising amount of knowledge transfer between attendees," said Sterne.
About the eMetrics Marketing Optimization Summit
Entering its tenth year, the eMetrics Marketing Optimization Summit consistently delivers insight on how to increase marketing ROI through optimization of campaigns, communications, content, the overall customer experience and satisfaction. The global conference series is recognized as the premier event for improving results of your digital marketing investment.
# # #