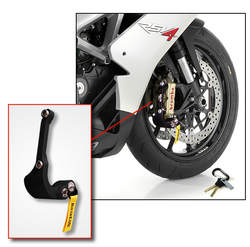 ...we are very happy to give to our customers another reason to choose Aprilia and Moto Guzzi Genuine Accessories.
Newburgh, New York (PRWEB) November 1, 2010
RoadLoK Security, award-winning developer and manufacturer of model-specific locking systems for powersport vehicles, has been contracted to produce co-branded security systems for Aprilia and Moto Guzzi motorcycles, owned by Piaggio & C, SpA. The Piaggio Group is the largest European manufacturer of two-wheeled motor vehicles and one of the world's leaders in its sector. The Group is also a major international player in the commercial vehicle market.
THE NEWS
Aprilia RSV4 and Moto Guzzi Stelvio owners will soon be able to secure their motorbikes with RoadLoK's patented locking system. "We have been working closely with the Piaggio Group to bring our locking systems into their lineup of Genuine Accessories for several months. Vigorous product testing and aesthetic modifications have been completed to bring Aprilia and Moto Guzzi riders the absolute best in protection for their bikes," stated Adam Xavier, President of RoadLoK Security.
The Aprilia RoadLoK will be offered in Stealth Black to blend in with the factory original front braking system while the Moto Guzzi RoadLoK is offered in Ergal Gold to accent the unique design and color choices of the Stelvio. Guido Scanagatta, Product Manager for Motorbike Accessories added, "Piaggio & Co. R&D department carried out, as usual, the most severe tests (including saline corrosion, high mileage component behavior, hard stress on test bench for 100,000 cycles, successive brakes from 300km/h to 0) to ensure the highest quality and reliability of this component and bike while installed, in order to give to its customers the security to buy for their motorcycles the best product currently available on the market. It was hard and long work but we are very happy to give to our customers another reason to choose Aprilia and Moto Guzzi Genuine Accessories. We would like to thank RoadLoK for the massive effort they made to match all our requests and for the support in developing a dedicated product for Piaggio Group."
Each system works the same way to safely protect the bike from being stolen while also protecting the caliper and fender from damage in the case of accidental ride-off. The unique design of both the Aprilia and Moto Guzzi RoadLoK Systems lock the front rotor without any potential for damage as the lock is permanently mounted to the caliper. Bike performance is unaffected due to the extremely low weight of the locking system. The Aprilia and Moto Guzzi branded RoadLoK Systems will be available exclusively through all Authorized Dealers worldwide.
Aprilia and Moto Guzzi bike owners in the United States may be eligible for an insurance discount when they utilize the new RoadLoK system. Riders in the United Kingdom will qualify for a discount with their system as the RoadLoK will be receive a Thatcham rating in November. Insurance discounts range from 5% to 20%, depending on locality.
WHEN IS THE ROADLOK SYSTEM AVAILABLE?
All Authorized Aprilia and Moto Guzzi dealerships in America and Europe will have product availability by November 2010. All Authorized Aprilia and Moto Guzzi dealerships will carry product through the Aprilia and Moto Guzzi Genuine Accessories catalog. Dealerships can also install systems for customers that prefer professional installation.
ABOUT ROADLOK SECURITY
RoadLoK Security, LLC is a New York based licensing and manufacturing company that specializes in the design and production of model-specific vehicle locking systems. The RoadLoK system is patented both domestically and internationally. The RoadLok is the only locking system that safely and effectively prevents roll away theft. The System is designed to be permanently mounted on a motorcycle, thereby eliminating the need for storing the lock while riding. The system's permanent mounting eliminates all momentum, making it virtually impossible to damage calipers and fenders; this is accomplished while also protecting the rider, should the rider forget to unlock the System before riding off.
All RoadLoK Systems are backed by a Limited Lifetime Warranty and full customer support. RoadLoK Security strives to create the best locking systems available while offering the superior customer service. Over the past five years the model range has extended from a single Suzuki Hayabusa locking system to encompass Harley-Davidson models, Victory Motorcycles, Kawasaki, Honda, Yamaha and Suzuki sport bikes. Model coverage information is available on the company website at: http://www.roadlok.com.
FOR MORE INFORMATION VISIT:
aprilia.com or call:
US: (800) 631-1101 to find an Aprilia dealer near you.
International: 00800-15565500 (Italy)
motoguzzi.com or call:
US: (212) 380-4400 to find a Moto Guzzi dealer near you.
International: +39 0258245275 (Italy)
roadlok.com or call:
US: (888) ROADLOK to find an Authorized Dealer near you.
International: 0800-802057 (Austria)
# # #