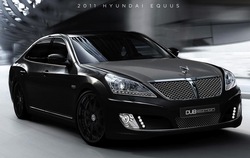 The Equus' ride quality is outstanding and the drive performance is prolific, Kimatni D. Rawlins
SEMA Show, Las Vegas Convention Center (PRWEB) November 1, 2010
Hyundai's all-new luxury flagship sedan, the 2011 Equus, is on display this year at the SEMA Show in Las Vegas. But, putting a car on display at a tradeshow isn't groundbreaking. What IS fun and visually arresting is that three separate companies have fully customized and Equus and each will be showcased in Hyundai's booth for attendees to admire.
For SEMA registrants who want to get behind the wheel of this new luxury sedan, Automotive Rhythms is hosting test drives of the Equus on Tuesday, November 2. As part of the Equus Experience, Automotive Rhythms will interview drivers and capture their opinions and experiences on video. Gasoline gift cards will be given to all participants who appear on camera.
Since Automotive Rhythms is the multi-national lifestyle firm that blends evaluations of the latest cars, trucks, SUVs, and bikes around music, fashion, travel and technology, these video interviews will complement an expanded websidode on the Hyundai Equus at http://www.ARtvLive.com.
According to an Equus review by Automotive Rhythms, "Motoring technology includes 19" chrome wheels, first class rear seats, an intuitive multi-media system, a 4.6-liter V8 with 385 horsepower, a Continental supplied air suspension with continuous damping control with "sport" and "suspension height" settings, a 6-speed automatic transmission with SHIFTRONIC, and electro-hydraulic power steering. You'll achieve 16 mpg city/24 mpg hwy fuel economy with the Korean big boy."
Automotive Rhythms President and Publisher, Kimatni Rawlins, goes on to say, "The Equus' ride quality is outstanding and the drive performance is prolific."
In addition to the day of test drives, Automotive Rhythms has planned a special Equus Tweetup for Tuesday night, November 2, 2010. This informal gathering will allow folks who are unable to drive the Equus during the day, the chance to get behind the wheel at night.
You may sign up and see more details about the Tweetup at http://sema2010.eventbrite.com.
So take a look at the customized Equus models on the SEMA show floor, then join Automotive Rhythms for a test drive, some free gifts and an exclusive cocktail party right after the show on Tuesday.
*The three firms who have customized a Hyundai Equus for display at SEMA (booth Central Hall 24387) are DUB Magazine; Rhys Millen and Mummbles Marketing. More details on these firms is available at the booth.
For more details on getting behind the wheel of the Equus and attending the Automotive Rhythms - Equus Tweetup at SEMA, visit http://www.facebook.com/AutomotiveRhythms and follow us on Twitter http://twitter.com/artvkimatni
# # #