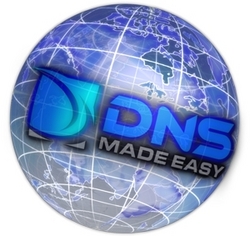 We are excited at the additional features, redundancy, capacity and scalability that the second version of Elite Resolution Services platform will bring to our DNS Made Easy network
Reston, VA (Vocus) November 1, 2010
DNS Made Easy (dnsmadeeasy.com), the world leader in enterprise IP anycast DNS services, announced the release of the second version of their proprietary Elite Resolution Services platform. The upgraded platform will provide additional levels of redundancy and features to the DNS Made Easy enterprise DNS services infrastructure. The DNS Made Easy network is already well respected as being one of the most reliable enterprise DNS infrastructures in the world with a 99.999% DNS uptime history and an over 8 year history of 100% uptime. The Elite Resolution Services platform was originally developed as part of DNS Made Easy's constant commitment to the improvement of their enterprise DNS services infrastructure. The second version of the Elite Resolution Services platform starts to address the needs for their growing user base and will allow DNS Made Easy to offer new services and products to their customers.
The Elite Resolution Services platform is a multi-tiered framework that creates localized server redundancy and scalability within the DNS Made Easy enterprise anycast server clusters. The localized redundancy provided by the Elite Resolution Service platform creates redundant servers within every cluster that are kept constantly updated with DNS Made Easy's cascading fast DNS updates. These servers will automatically begin responding to queries if query load increases or in the unlikely event that a server experiences a catastrophic failure or DDOS attack. The site redundancy offered by the Elite Resolution Services platform is provided through the DNS Made Easy enterprise anycast IP network. The Elite Resolution Services platform enables automatic contingencies such that multiple sites can experience catastrophic outages and all of the remaining sites will smoothly take over and share the query load of the down site(s). This proprietary platform is implemented at the core of the DNS Made Easy network and guarantees that queries are always answered locally on the name server cluster nearest to the user making the query.
The local and site redundancy provided by the Elite Resolution Services platform is modeled after the configuration used by many of the most reliable root name servers. DNS Made Easy engineers have further developed this proprietary solution to meet the needs of their growing customer base. Version 2.0 of the Elite Resolution Service will allow DNS Made Easy to offer many advanced features that users require including a geo-specific answer per query.
"We are excited at the additional features, redundancy, capacity and scalability that the second version of Elite Resolution Services platform will bring to our DNS Made Easy network," stated David Miller, Vice President and CTO, Tiggee. "Offering this level of redundancy and capacity is unmatched in the industry and offers our users a level of DNS service that is unique to our industry segment. We are very excited to be able to start offering the advanced services given by ERS 2.0."
Version 2 of the Elite Resolution platform will be seamlessly released to all DNS Made Easy Managed DNS customers by the end of Q1 2011.
Further information about DNS Made Easy products and services can be found at http://www.dnsmadeeasy.com.
About DNS Made Easy
DNS Made Easy is a subsidiary of Tiggee LLC and is a leader in providing global IP Anycast enterprise DNS services. DNS Made Easy launched their DNS services and web management portal in 2002 and has grown to manage hundreds of thousands of customer domains receiving more than 1.5 billion queries per day. DNS Made Easy has a proud history of 99.9999% DNS uptime and industry leading ROI since launching their DNS service.
About Tiggee LLC
Tiggee LLC (tiggee.com) is a privately held company, formed in 1999 to provide innovative internet solutions for businesses. "Putting your business on the Internet is our business." Tiggee LLC's subsidiaries include DNS Made Easy (IP anycast enterprise managed DNS services - dnsmadeeasy.com), VPSit (enterprise virtualization environments - vpsit.com), Host Made Easy (dedicated server hosting and co-location services - hostmadeeasy.com), Top Level DNS (TLD name services - topleveldns.com), Resolving Name Server (resolvingnameserver.com), Show My Host (showmyhost.com), Reverse DNS Trace (reversednstrace.com), IPv6 Verify (ipv6verify.com), and Domains Made Easy (domainsmadeeasy.com).
# # #