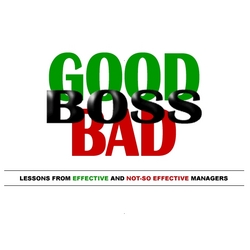 A surprising number of respondents to our survey concentrated on the character of their boss more than his or her leadership skills.
Palm Beach Gardens, FL (PRWEB) November 2, 2010
As the CEO of Global Strategic Management Solutions (GSMS), Dr. Doreen McGunagle states, "Our commitment is to develop the best possible training tools for leaders and those involved in effective organization development." GSMS conducted a survey in which we asked participants two simple yet revealing questions, What are the characteristics of a good boss? What are the characteristics of a bad boss? The responses were candid and have served as the framework for an eBook we are offering as a free download at our company website.
Good Boss – Bad Boss: Lessons from Effective and Not-So Effective Managers takes a candid look at from the inside out, what it takes to be a good manger, effective habits, and attitude that lead to ineffective management. The eBook is divided into three main of keys to positive management development, each built on the foundation of answers given in our survey. Included are insights on leadership from the viewpoint of communication, character, and leadership skills.
Communication
Good Boss – Bad Boss emphasizes the fact that most employees and mid-level managers see communication as a primary emphasis. Bosses who come across as not hearing the people beneath them do not command the respect necessary to boldly move forward as a business. As one respondent put it: A bad boss is a "an ego maniac, elitist, self-centered know-it-all, my-way or the highway kind of person who expects others to give loyalty and commitment when that is not returned and who creates not only poor morale but fear as well as someone who has to be right and make all of the decisions." That's one giant run on sentence that paints are pretty graphic picture of a workplace where communication is not taking place.
Character
A surprising number of respondents to our survey concentrated on the character of their boss more than his or her leadership skills. Employees, it seems, will forgive a host of managerial ineptitudes before they will a boss they sense is a basically bad person. Managers don't have to be perfect people, no one is, but employees expect them to at least strive toward what every decent human being ought to strive for.
Leadership Skills
One of the most often heard complaints among energetic employees is how little time and investment is made in equipping them to do their job. Good employees want their bosses to invest in their training and leadership development. As one survey respondent says in the eBook: "A good boss is primarily a leader; somebody with the ability to establish a vision and a mission for the team, and then is capable to motivate, provide guidance and mentorship, remove ambiguity, and work together with reports and other business partners to achieve common goals, while maintaining appropriate ethical and conduct levels, and keeping a good sense of humor and professionalism."
"Our research shows that engaged employees can increase their financial position by almost 200% while disengaged employees can decrease your financial position by almost 25%," states Dr. McGunagle. The survey discusses key drivers for engaged employees. To get the eBook click here and use the insights revealed there to take your leadership management to a whole new level. Take a self assessment to see how your organization stacks up.
About Dr. Doreen McGunagle, CEO of Global Strategic Management Solutions
Dr. McGunagle comes to each engagement armed with proprietary and road-tested assessment tools that can be counted on to reveal sharp insights to guide organizations to better performance. As she examines key areas such as structural foundation, communications, productivity, employee engagement, execution, and due diligence, her mission is to ensure that each client creates a suitable corporate culture that is set up to support world-class service. Best of all, she has the diplomacy and heart to deliver difficult news skillfully and without judgment so that corrective and decisive actions and favorable cultural shifts can take root and grow. More information is available by calling 561.208.1071 or online at http://www.globalstrategicmgmt.com.
# # #