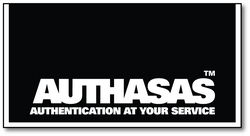 "We have delivered the ability to completely eliminate all passwords by combining strong authentication with award winning SSO technology"
Amsterdam, The Netherlands (PRWEB) November 9, 2010
Authasas® "Authentication at your Service" announced the release of Authasas Advanced Authentication® for Novell® SecureLogin. This solution integrates market-leading authentication technology with the market leading enterprise single sign-on technology. Authasas Advanced Authentication® secures single sign-on credentials with several available strong authentication methods including fingerprint biometrics, contactless smart cards, and USB Flash drive token authenticators.
Eliminating application passwords is a primary objective of every IT department. Managing application passwords is a burden of every employee that the IT department serves. Doing both securely is the objective behind integrating Authasas Advanced Authentication® with Novell® SecureLogin. The resulting integration provides both replacement of the Windows® logon password with a stronger, multi-factor authentication method, and it provides re-authentication to secure applications that are SSO-enabled via SecureLogin. "We have delivered the ability to completely eliminate all passwords by combining strong authentication with award winning SSO technology" – says Reinier van der Drift, CEO, Authasas® – "This solution provides the most usable form of security available, and we've designed our technology to support every market, and organizations of every size." Reinier continues.
Authasas Advanced Authentication® supports both x86 and x64 platforms. The authentication client may be deployed on Microsoft Windows XP®, Vista® and Windows 7® workstations, as well as Microsoft® Terminal Server and Citrix Xen Servers running Windows Server 2003® and 2008. Authentication servers may be deployed to Windows 2003® and 2008 servers and leverage Microsoft Active Directory® for centralized credential storage and policy management.
Authentication methods supported include biometric fingerprint authentication with full compatibility and interoperability with over 50 biometric readers/vendors. Java and mini-driver smart cards may be used for Windows® authentication without the need for PKI certificates. Contactless smart card support provided for OmniKey readers using standard MIFARE and HID iClass. The USB Flash drive authentication method allows for any USB drive to function as a token for 2 factor authentication. Both the contactless smart card and the Flash drive method support implementation and management capabilities to enforce a secure PIN, even on read-only devices.
About Authasas Advanced Authentication
Authasas Advanced Authentication is an extended authentication middleware that integrates seamlessly with Microsoft Windows 2000 ™, XP ™, Vista ™, Windows 7 ™, Server 2003 and Server 2008 ™ and an extensive list of authentication methods and devices are supported. This centrally managed middleware provides authentication, authorization and comprehensive auditing capabilities.
Authasas Advanced Authentication is distributed across the globe via a network of value added distributors and resellers. Authasas is a division of BioXS International BV.
For more information please visit http://www.authasas.com.
About BioXS
Founded in 2001, Amsterdam-based BioXS International is Europe's specialized supplier of strong authentication solutions, i.e. biometric solutions to secure access to computers, networks, data, and physical spaces.
For more information please visit http://www.bioxs.com
Contact:
Mark Nieuwenhuizen
Communication & PR
+(31) 6 513 62 670
# # #