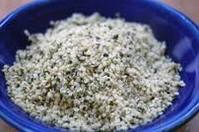 "At this point, if you are against cannabis hemp, you are either un-educated, stand to lose a profit, or are susceptible to moral crusades."
Albuquerque, NM (PRWEB) November 2, 2010
With growing concerns over energy, environment, healthcare and commerce Americans are once again looking towards cannabis hemp as a leader in providing a sustainable, secure, safe and profitable future. Hemp2Heal is advocating "saving the seed that can save the planet" launching a 2011 educational tour commencing in Albuquerque, N.M.
Nutritionally hemp is a super food. Hempseeds contain all of the essential amino acids and essential fatty acids necessary to maintain healthy human life. Environmentally, this often overlooked valuable and versatile natural recourse is the best sustainable source of plant pulp for biomass fuel to make charcoal, gas, methanol, or even produce electricity. Economically, Hemp has the potential to be America's number-one agricultural resource. Thousands of products could be manufactured from hemp, creating millions of new green jobs.
In 2009 the American Medical Association voted to reverse its longstanding endorsement of cannabis' Schedule I prohibitive status. Medicinally cannabis is an affordable, safer alternative to pharmaceuticals. Research has revealed optimistic indications when using cannabis for asthma, glaucoma, nausea, cancer & chemotherapy, anorexia, tumors as well as a host of other conditions. Furthermore, no other single plant source provides complete protein in such an easily digestible form, nor has the oils essential to life in as perfect ratio for human health and vitality. Hempseed protein is 65% globulin edestin which means the protein is easily digested and readily available in a form quite similar to that found in blood plasma.
The U.S. economy would explode if cannabis hemp were used in agriculture. American farmers would have a sustainable crop used for food, clothing, plastics, medicine, paper, energy, and more. Depending on which U.S. agricultural report is correct, an acre of full grown hemp plants can sustainably provide from four to fifty or even one-hundred times the cellulose found in cornstalks, kenaf, or sugar cane- the planets next highest annual cellulose plants. Hemp is the number one net biomass source on earth, capable of producing ten-tons per acre in only four months.
Saving the environment, cannabis hemp is the only identified annually renewable natural resource that is capable of providing the greater part of the worlds paper and textiles, meeting all of the worlds transportation, industrial and residential energy needs; concurrently reducing pollution, rejuvenating the soil and cleaning the atmosphere.
The benefits and uses of this super plant are endless, Shane Clay, President of Hemp2Heal believes cannabis hemp is neither liberal nor conservative, just logical. He has been quoted stating "At this point, if you are against cannabis hemp, you are either un-educated, stand to lose a profit, or are susceptible to moral crusades."
About Hemp2Heal
Hemp2Heal is an educational and consulting group promoting safe and responsible medical marijuana use and fiercely advocating for the environmental, ecological and economical benefits of cannabis hemp. Focusing on the 14 states who currently have medical and hemp laws enacted, Hemp2Heal is staging an ambitious entrance with an energizing 2011 tour, coming to U.S. cities near you. Hemp2Heal is passionate about assisting in the forward movement of cannabis hemp; please contact us to learn more.
Interviews and more information available.
Media Contact:
Brandi Clay, Director of Public Relations
Hemp2Heal
brandi(at)hemp2heal(dot)com
1.575.779.3124
http://www.hemp2heal.com
###