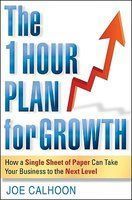 The 1 Hour Plan for Growth
Kansas City, MO (Vocus) November 1, 2010
Joe Calhoon, noted business strategist, author, and keynote speaker, has written a new book for entrepreneurs and small business owners, The 1 Hour Plan for Growth – How a Single Sheet of Paper Can Take Your Business to the Next Level, which has the potential to become a bestseller on Amazon.com on November 16, 2010 as it emphasizes the importance of a simplified planning process and provides a proven system for any business to create a compelling one-page business growth plan in approximately one hour.
The 1 Hour Plan for Growth (official site to launch soon) capitalizes on the notion that small business—not the government—will save American jobs through the individual bootstrapping techniques of hard work and ingenuity. With the book's three-step approach to growing small businesses, Calhoon proves that entrepreneurs can reinvent, revitalize and restart the economy by improving their own companies and striving for the American Dream. The book covers the six essential elements of the dynamic business growth plan—vision, mission, values, objectives, strategies, and priorities—and a proven process to engage employees, develop leadership capacity, improve performance, and accelerate growth. In addition, Calhoon incorporates his own experiences such as working with dozens of successful small business owners, innovators, and entrepreneurs to develop effective business plans that will help to jumpstart their businesses and today's deteriorating economy.
Joe Calhoon and his team hope to generate enough book sales on November 16, 2010 to make it on the Amazon bestseller list in the business book category as well as in the overall book category. In order to make his goal, anywhere from 3,000-5,000 copies of The 1 Hour Plan for Growth must be sold on November 16th. Considering that this inventive and highly-regarded author has written one of the first planning books with an accessible and usable process for small to medium-sized business owners, Calhoon's bestselling goal seems to be extremely attainable.
Joe Calhoon is a noted business strategist, author, and keynote speaker. In the past twenty-five years, he has worked with more than 500 organizations such as 3M, Best Buy, Northwestern Mutual Life, and Ritz-Carlton Hotels to develop leaders, improve organizational performance, and achieve business growth. "The 1 Hour Plan for Growth" is his third book.
Stephen Covey, author of the best-selling book, The Seven Habits of Highly Effective People regards Joe Calhoon as an expert author and business strategist. "Joe has consistently demonstrated a willingness and ability to improve the quality of people's lives," he says. "He has developed a reputation for delivering high-content programs that inspire as well as entertain."
Entrepreneurs and small business owners are encouraged to purchase The 1 Hour Plan for Growth on November 16, 2010 in order to increase their business's chances of development and growth as well as to boost the book's bestselling status on Amazon. To learn more about Joe Calhoon and The 1 Hour Plan for Growth, please visit http://www.The1HourPlanForGrowth.com (site to launch soon).
The 1 Hour Plan for Growth is published by John Wiley & Sons, Inc. For more information, please contact Della Niemuth at (816) 285-8144 or visit http://www.joecalhoon.com.
# # #