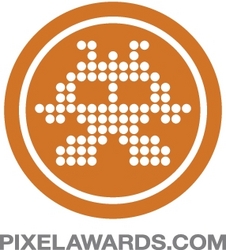 Venice, CA (PRWEB) November 2, 2010
The Pixel Awards announced their 2010 nominees today in the fifth year of the web awards competition.
The Top 5 nominees were named in each award category, including Agency, Apps, Community, Food & Beverage, and Non-Profit. Along with an array of personal and corporate websites like Chipotle, Disney, Iron Man 2, JetBlue, Open Table, Revlon, and Virgin America, many agencies participated in this year's call for entries, including Firstborn, Method, Inc., ROKKAN, The1stMovement, and Trigger.
A full list of nominees and categories can be found at The Pixel Awards website (http://www.pixelawards.com).
Along with the judges' winner selections, the public has the opportunity to vote for a People's Champ in every award category. Voting will be open from November 2nd through 30th so be sure to vote for your faves every day. Winners will be announced in December.
Special thanks to our unparalleled sponsors - MediaTemple, MailChimp, Harvest, and Go Media!
About The Pixel Awards
Established in 2006, The Pixel Awards take a fresh look at the best on the web. We are the cutting-edge website award, annually honoring compelling sites that have shown excellence in web design and development. Sites are submitted in 24 diverse categories, including our unique Apps, Agency, Geek, and Green categories. Any site can enter. Only 22 exceptional sites will win.
# # #