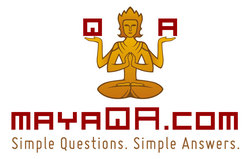 "What is total hip replacement? Who won the first Kentucky Derby? What is mesothelioma? Who was Ivan Rios?" MayaQA has the answer to these questions, and to hundreds of thousands more.
Santa Monica, California (PRWEB) November 2, 2010
10.2 questions will soon find one simple answer at MayaQA.com. A new web site, MayaQA.com aims to become the web's largest repository of factual questions and answers. Each question and answer set is manually entered into a master database and reviewed a human editor. Over 10,000 new questions and answers are added to the site every week, and that growth pace is expected to quadruple in coming months.
Roughly 140 billion searches are performed each month via the major search engines (Google, Bing, Yahoo and Twitter). Approximately 10 billion of these searches come in the way of natural language queries like "What is Mesothelioma?", "What is wrongful death?", or "Who is the Dalai Lama?", all of which are searched for thousands of times each month.
While there are a number of web sites in the question and answer fielding category, few provide the one-two punch of MayaQA.com. The site recently launched its 1.0 version and is quickly building a gargantuan database of questions and answers. Users can easily select a category and browse or search questions. Questions are neatly categorized: Business and Economy, Health and Fitness, Law and Legal, News and Media, Parenting, and many more.
One of the many advantages of MayaQA.com over competing Q&A sites is the fact that there is no waiting period to receive an answer. Answers are manually pre-loaded into a massive database. MayaQA's bread and butter consists of the millions of evergreen, factual questions people search for every day. Example: the answer to "Who won the Super Bowl in 2009?" will never change unlike a a question like "How Do I Become a Police Officer", which requires a relatively subjective answer and is subject to constant change and variations.
One of the more popular categories on MayaQA.com is "Law and Legal". Let's face it; there are many legal terms that boggle the mind. For instance, "What is vilification"? Do you know? Unless you are a law student, attorney, judge, or have been involved in a case regarding this charge, chances are good that you are just as clueless as the rest of the population. However, sites like MayaQA.com are a great way to find exactly the answer you want, without having to read through a bunch of other content in the process.
Another greatly misunderstood area is health. With so many diseases and conditions, and such a large population, there is certainly going to be a time when you will come across a term that you are uncertain of. Whether that is a condition, a surgical procedure, or a medication, MayaQA can help. With a wide range of questions and answers in this category, and more being added daily, you no longer have to wonder about questions like, "What is total hip replacement?" because you will be able to easily find the answer.
For more information about MayaQA.com, please visit http://www.mayaqa.com or call 310-383-8200.
# # #