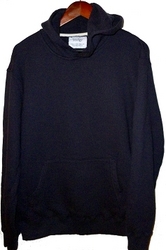 "After we sell 1000 sweatshirts, I will host a big company party. It might even be on a boat." Chris Chaten, Founder, Stodgy
Chicago, IL (PRWEB) November 2, 2010
Stodgy, the world's leading producer of sweatshirts that are kind of expensive but not stupidly expensive, has launched their inaugural line. Version 1.0 is made in the USA of 16 oz. loop terry. They come in two colors, navy and heather grey, and two styles, a hoodie and a quarter zip.
Stodgy Founder Chris Chaten started the company because he couldn't find a really good sweatshirt for a reasonable price. His favorite sweatshirt had worn out, and the replacement candidates were either too pricey or of poor quality.
"All of these stores in the mall were selling these cheap, made in Malaysia hoodies for $50 or $60. Those just weren't viable. The really good sweatshirts are made by small labels, but they charge well over $100," said Chaten. He indicated Stodgy is able to offer their ridiculously high-quality sweatshirts by selling purely through the stodgyclothes.com website and eating ramen noodles for dinner. They also only fly the private company jet when first class tickets are fully booked.
The sweatshirts range in price from $65 - $75 and are available at http://www.stodgyclothes.com. Free shipping is included for orders over $100.
###