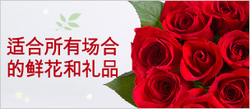 China is the world's most populous country, and a powerful market force
Miami, FL (Vocus) November 1, 2010
Following on from a 2010 expansion into China, online flower delivery company daFlores is now offering its website in Mandarin Chinese. The addition of Chinese to the company's multilingual website means that daFlores is now the only flower delivery company to have translated its site into more than seven languages.
Customer service and reaching customers on their own ground are two of daFlores' major strengths. "China is the world's most populous country, and a powerful market force," explains Francisco Bustos, CEO and President of daFlores. "It was a logical step to translate into Chinese and we're delighted to be able to serve our new customers in their mother tongue."
DaFlores has celebrated its tenth year in business this year by expanding into parts of Asia and Europe. Additionally, the company credits its recent growth, despite the recession, to an aggressive use of social media. Through Twitter and Facebook, the company has nurtured a base of over 140,000 readers.
"We've always used whatever tools we can to reach our customers," notes Mr. Bustos. "Facebook has been particularly good for us and our growth into China has been just one of several exciting milestones this year. Translating into Mandarin is just the next adventure. We're quite confident that there will be more."
DaFlores is a family-owned company that was founded in 2000. It employs social media, multiple avenues of customer service and constant quality monitoring to serve its customers' flower delivery needs.
About daFlores International Flower Delivery Company
DaFlores.com is part of Floresa Colombia, Inc., a United States corporation. It's based in Miami, Florida. The company works through an international network of experienced local florists who meet stringent quality requirements. DaFlores.com can arrange same-day delivery to cities in the Americas, parts of Europe and Asia.
# # #