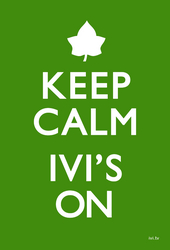 Keep Calm, ivi's On
New York, NY and Seattle, WA (PRWEB) November 1, 2010
ivi TV, the online cable system, announced today that through the course of the Cablevision-Fox spectacle, its "Keep Calm, ivi's On" campaign was wildly successful resulting in a 323% increase in new subscribers from pre-blackout to post-blackout.
ivi TV kept Cablevision's 3 million customers out of the dark as it carried the affected channels live, including NFL games and the World Series, throughout the duration of the blackout.
Live broadcast television from ABC, NBC, CBS, and FOX news on ivi TV of the midterm election coverage Tuesday will only further ivi TV's acceleration, as breaking news and live sports are the primary drivers of television viewing.
Live election coverage available on ivi TV includes:

ABC - Live coverage will be helmed by Diane Sawyer and George Stephanopoulos with ABC's "Vote 2010" commencing from ABC News headquarters in New York starting with a special edition of World News with Diane Sawyer at 630 PM. The full election coverage will continue from 8 PM to at least 4 AM. Nightline will also host an hour-long election edition.
CBS - Katie Couric will anchor a special report from 10-11 PM and again from 1 to 2 AM.
FOX - The broadcast network will feature anchor Shepard Smith offering election coverage from 9 to 10 PM and again from midnight to 1 AM.
NBC - Anchor Brian Williams will begin the network's coverage at 9 PM until local newscasts come on at 11 PM. Williams will return with more coverage starting at 1135 PM until 330 AM, pre-empting late-night talk shows for election coverage. Williams will be joined by David Gregory, Tom Brokaw and MSNBC's Chuck Todd who will provide analysis and exit poll results.
Quote, attributable to ivi TV CEO and founder Todd Weaver:
"At a time when even Wall Street's top analysts signal that the entertainment industry has its future in its own hands, 'big media' backed entities arrogantly and consistently leave consumers in the crossfire while emerging companies like ivi TV drive innovation affording consumers' an attractive alternative to pricey cable TV."
During the course of the News Corp induced greed-fest, ivi TV garnered significant press coverage as a viable, legal alternative. The press campaign was complimented by grassroots based street teams handing out "Keep Calm, ivi's On" flyers across Manhattan, leading to even more word-of-mouth buzz about ivi TV's popular service.
ivi TV, like some 16,000 other companies, such as AT&T's U-Verse, pays the Copyright Office to retransmit over-the-air broadcast stations, as all other cable companies do, in strict compliance with the US Copyright Law.
Quote, attributable to ivi TV chairman Ron Erickson:
"ivi TV, and America for that matter, have learned that FOX acts reflexively when confronted by the changing demands of the marketplace. Rupert Murdoch is used to throwing his weight around and getting his way, whether it involves special rule changes allowing ownership concentration of media properties or egregious charges for his FOX content over antiquated, legacy cable systems. Let FOX and Murdoch continue to rail against the inevitable. Meanwhile, significant numbers of consumers are signing up for ivi TV and watching broadcast TV live on their computers."
ivi TV offers more content than Hulu and a 30 day free trial to watch major broadcast channels including ABC, NBC, CBS, FOX, The CW, PBS, and others from a growing number of local affiliates, all available via a downloadable app at ivi.tv.
About ivi TV™
ivi TV endeavors to make the world a better place by providing a high-quality viewing experience while offering consumers what they want in the way they want it, with more choices, less hardware, and higher standards than other modes of online content delivery. At the same time, ivi TV increases viewers for channels and advertisers, continuing and adding to the live television tradition in an innovative and sustainable manner. Consumers, broadcasters and advertisers alike will agree that live television, most notably sports and news programming, is here to stay. The solution is ivi TV. And the time is now. ivi, Inc., is based in Seattle, WA. For more information, please visit http://www.ivi.tv
Additional Resources:
Follow us on Twitter
Friend us on Facebook
Watch us on YouTube
Contact:
Hal Bringman
NVPR
hal(at)nvpr(dot)com
+1.323.851.6877
+1.310.210.8011 (mobile)
Skype: halbringman
Twitter: @halbringman
###