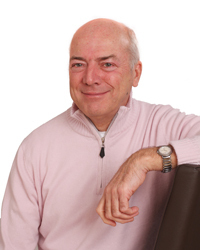 The void is the fear of being completely alone, beyond that is the real you, who is waiting to grace your life with its presence.
(PRWeb UK) November 2, 2010
Number one bestselling self-help author Mike Robinson has now written about 'How to Deal With Addiction'. Drawing on the principles set out in his recent seminal work 'The True Dynamics of Life' he has developed his section on 'Letting go of Habits' to explain in more depth the true nature and source of addictions. He says that to understand the nature of addiction it is necessary to understand the root of all human suffering, which is the feeling most people have of a void within which needs to be filled. Destructive addictions make the headlines, but all humans are conditioned to have addictions to escape the feelings of this supposed void. Thus most of the human race has an addiction of some kind, from alcohol, food, drugs, exercise, religion, football, etc. Robinson says, "The void is the fear of being completely alone, beyond that is the real you, who is waiting to grace your life with its presence."
Robinson explains that each humans conditioning is rooted in their first encounter with fear, a formative childhood moment that blocks a significant portion of one's natural creativity and power. This is the child's first major experience of feeling alone, vulnerable and unheard and is the significant point where the 'real self', which lives beyond the ego or personality, gets covered over by this ultimate sense of not knowing what is false and what is real, setting the stage for addictive behaviour.
When people give up an addiction they often move into a secondary addiction, usually its opposite, so they become an anti of their addiction, yet this is not the solution either, as the void is now being filled with resistance. Those who have physical addictions i.e. alcohol, drugs, etc, can often give up the physical usage, but end up turning that avoidance into a psychological addiction, i.e. moving into a religious belief or a New Age belief, but still the running from this vast sense of loneliness is not actually being addressed.
If a person were to drop their addiction without creating another addiction, all the suppressed feelings of this loneliness, this vulnerability and being unheard will have to come to the surface and be felt. This is what most people are afraid of. Thus it is fear that keeps a person in the vicious circle of addiction. Consequently addiction is neither good nor bad, it is what is being run away from that needs to be faced and felt
Robinson says, "We pass this constant running from the void to our children and we teach them how to compete for success and we use habitual behaviour to do it. Our children grow believing that habit and addiction forming is normal and it is only when they move into destructive addiction do we 'believe' they are doing something 'wrong.'" He continues, "Good addictive behaviour is still the running away from this deep-rooted sense of loneliness, and neither good nor bad addictions are the solution, as they are still the avoidance."
The full article can be read by clicking this link.
There is further information about Mike Robinson's work, as well as the opportunity to join his membership area for monthly workshops, audio downloads and ongoing support on a journey of self-discovery, by going to Mike's website.
The True Dynamics of Life is available for sale online at Amazon.com, BarnesandNoble.com, from Mike Robinson's website and other outlets.
About the Author
Mike Robinson is a writer and personal development teacher dedicated to sharing his understandings. Brought up from the age of 3 months in a children's home in absolute suffering, then put out into the world at 16 yrs with only the clothes he stood up in and no understanding of how the world worked, he spent many years observing his own and others pain until he found a solution. He has since spent the past 35 years travelling the world in an effort to help people recognize the truth and understand love in action. A father of three, Robinson resides in North Walsham, with his family.
REVIEW COPIES AND INTERVIEWS AVAILABLE
# # #