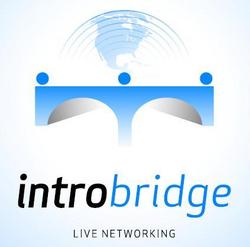 "IntroBridge is a truly revolutionary application!" - Robby Kwok,Head of Corporate Development, LinkedIn
Norwalk, CT (PRWEB) November 3, 2010
IntroBridge ®, a revolutionary new startup that provides live location-based networking opportunities between professionals globally, is announcing the launch of their first iPhone application. IntroBridge creates meaningful and valuable introductions in real time to other professionals based on our patent-pending MatchMaking Engine and location-aware technologies. In today's economy and challenging business environment, meeting the right people at the right time can seem next to impossible. IntroBridge solves this problem by recommending introductions based on our user's preferences and location, creating real-world opportunities for our users whether they are looking to expand their business interests, find a job, find a job candidate, or simply creating greater professional opportunities for themselves. Because IntroBridge operates across social networks, the introductions we create for our users takes all of the hassle out of traditional networking activities and costs, and dramatically expands their networking or career opportunities!
IntroBridge takes full advantage of our user's existing profile, credentials, and preferences thereby removing the common problem and need for them to duplicate the effort of registration. IntroBridge enables users to network proactively and dynamically, taking full advantage of Apple's background alert functionality to enable our users to opportunistically engage with other professionals. IntroBridge also enables our users to queue requests when they aren't available, and allows them to act on that interest when they are. IntroBridge enhances the match making through our novel use of selection behavior: we improve future introductions through the choices you make! IntroBridge manages the physical introduction once a user selects another to "Bridge" with through the use of our patent-pending digital tools, enabling the users to be identified to each other.
"IntroBridge is really novel, and makes for a compelling business application." said Jon Steinberg, formerly of Polaris Ventures. Robby Kwok, Head of Corporate Development at LinkedIn, says of IntroBridge: "The cleverness of location mapping to introductions is very interesting" and "We especially like the integration with LinkedIn!".
IntroBridge for the iPhone is now available on Apple's iTunes Store for $4.99. A "Freemium" version, is also available, with a reduced feature set. The Freemium version can be upgraded through Apple®'s In-App Purchase feature.
About IntroBridge: IntroBridge is a privately-funded software company founded in Florida and based in Connecticut, with development offices in the UK. IntroBridge is the first company to provide mobile location-based live networking services to its users around the world. IntroBridge revolutionizes how professionals can network.
Contact:
Contact: Gordon Lewis
IntroBridge ®
40 Richards Avenue
Norwalk, CT 06854
Phone: 203-423-0824
Email: PR(at)IntroBridge(dot)com
###