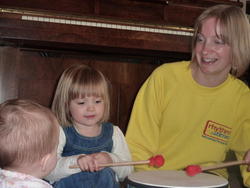 It seems a natural step to embark on this fabulous and rewarding career that also fits around my family commitments.
(PRWeb UK) November 2, 2010
Children's music franchise group, Rhythm Time, is enjoying unprecedented growth this year as two more franchises join the Company this month. This brings the total number of new franchises this year to six, which is the fastest level of growth since the Company started offering franchise opportunities in 2000. Owner and founder, Kathy Doolan is delighted with the new franchisees who have already undertaken training and are now ready to launch their new businesses. "It is wonderful to see so many enthusiastic and talented individuals wanting to share in this thoroughly rewarding business " says Kathy.
According to a recent review of the UK franchise industry by Franchise Development Services, more than 250,000 people are actively looking at owning their own franchise business and more than 1,500 franchise brands are expanding nationwide. They also found that franchising is the safest way to start a business - some 90% of new franchise owners succeed. In this current economic climate, increasing numbers of people have been made redundant or have simply lost their job and are exploring franchising as a proven business format for their skills, energies and ambitions.
Rhythm Time's latest franchisees, Catherine Bayliss and Samantha Lindsay, both decided to take on their music franchise after attending Rhythm Time sessions with their children. Both have a love of music and wanted a career which enabled them to enjoy a better quality of working life and take control over their work-life balance. "Music has always been a big part of my life" says Catherine. "My parents were both music teachers, and I soon started to learn the violin and piano. My daughter and I loved going to classes and found them both fun and educational. It seemed a natural step to embark on this fabulous and rewarding career that also fits around my family commitments" she adds.
This music franchise has a set of unique courses that have been specifically written by Kathy (previously Head of Music at a Scottish school) and created to help a child's confidence, creativity and co-ordination. The classes are aimed at different age groups, specifically: music classes for babies (from birth to 15 months), music classes for toddlers (15 months to 3 years), and music classes for pre-school (3 – 5 years).
Rhythm Time offers music franchise opportunities throughout the country and now operates in nearly 200 different premises throughout the UK, helping more than 10,000 children weekly to enjoy an early start to the benefits of music.
If you would like to know more about Rhythm Time and the highly successful music franchise opportunities it offers, contact Kathy Doolan at Rhythm Time on 0121 711 4224.
Information For Editors
Rhythm Time
76 Beechwood Park Road
Solihull
B91 1ES
Telephone: 07813 831516 / 0121 711 4224
Rhythm Time was started in Solihull in 1995 by Kathy Doolan. After a very successful five years, Kathy decided to franchise the business in 2000.
Rhythm Time now has franchises all over the UK, operating in 181 areas with approximately 10,000 children attending classes.
Rhythm Time offers three age-appropriate classes for babies (birth to 15 months), toddlers (15 months to three years) and pre-school (three to school age).
Children come to Rhythm Time as tiny babies and progress to toddler and pre-school classes, enjoying a wonderful introduction to music.
All the courses have been created by Kathy, who trained at the Royal Scottish Academy of Music & Drama in Glasgow.
Kathy previously was head of music in a Scottish school and shares with all franchisees and teachers a real passion and belief in the importance of music during a child's formative years.
Kathy is a strong believer that singing unaccompanied helps to develop a child's speech and language from an early age and this forms a key element in all the classes.
###