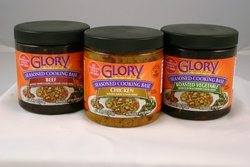 Everything you need to achieve a soulful flavor in minutes is in each 11-ounce jar, said Glory Foods Marketing Director Pamela Richardson. This product is truly changing the face of traditional cooking aids in the soup category.
Columbus, OH (PRWEB) November 2, 2010
Judging by the popularity of reality Chef shows, one might assume that the key to being a great cook involves intense culinary challenges, famous judges, fancy ingredients and exotic dishes. But Glory Foods, the category leader in pre-seasoned, southern-style heat-and-serve foods, and its Seasoned Cooking Base, is turning America's unsung cooks into "Glorified Chefs" in everyday kitchens across the country. Its all-in-one attributes have revolutionized the soup category as it expands to markets throughout the Southern U.S. this fall.
The Seasoned Cooking Base debunks the notion that great cooking takes a variety of ingredients and hours tending to the stove to achieve an authentic, soulful taste. Combining Glory Foods's trademarked Southern-style flavor with ingredients such as sweet bell peppers, onions and garlic, tasty recipes like smothered chicken, beef stroganoff and chicken smashed potatoes can be on the table in less than an hour. The base -- available in Chicken, Beef and Roasted Vegetable -- is simply dissolved in water to create the flavor-packed groundwork for gravies, broths, stews and soups.
For the cost-conscious family chef, an 11-ounce jar makes up to 45 cups and can be stored for up to three years. The unique, revolutionizing properties of the product eliminates the need for broths, stocks and even bouillon, as Glory Foods' Seasoned Cooking Base can be used instead, with more flavor. All three flavors use Glory Foods' special blend of bell peppers, onions, garlic and other special spices and are equally great for gravies, sauces and soups. However, each also uses distinct, premium ingredients that can be optimized in dishes calling for that flavor:

Glory Foods® Beef Seasoned Cooking Base is created from slow-roasted, premium cuts of cooked beef. The rich, full flavor of the Beef base is optimal for rice, pasta and casseroles, as well as marinades and rubs.
Glory Foods® Chicken Seasoned Cooking Base is made from slow-roasted, premium cuts of cooked chicken. In addition to a variety of entrees, the Chicken flavor is also great as a seasoning for side dishes and vegetables.
Glory Foods® Roasted Vegetable Seasoned Cooking Base is created from slow-roasted onions, celery and carrots. Its light flavor is great as a replacement for recipes calling for bouillon, broth or plain water and in pastas, casseroles and vegetables.
"The appeal of this product is that everything you need to achieve a soulful, Southern-style flavor in minutes is packed in each 11-ounce jar," said Pamela Richardson, marketing director for Glory Foods. "When consumers ask us whether it's a broth or a stock or even a seasoning, we tell them that it's a catchall for all those things and more. This product is truly changing the face of traditional cooking aids in the soup category," added Richardson.
Stewing Up A Southern-Style Revolution
Available in food and mass outlets throughout the U.S., Glory Foods Seasoned Cooking Base was introduced with limited distribution in 2007. Its unique positioning as an all-in-one, dissolvable seasoning is stocked on soup aisles, which is unprecedented for Glory Foods and revolutionary for the soup category. The product, which has resulted in incremental growth in its roll-out markets, has also expanded usage occasions for existing consumers and served as an introduction to the brand for new consumers. Its success has contributed to its expansion this fall to hundreds of stores across Alabama, Arkansas, Georgia, Tennessee, Louisiana, Mississippi and Texas.
"We are so excited about the progress of this product and how it's carried its weight against our more established, flagship product lines," said Richardson. "As we continue to deliver an authentic Southern-style experience conveniently in pre-seasoned canned goods and side dishes, the Seasoned Cooking Base has poised us for continued success in a new category in new markets."
Giving Unsung Cooks the Glory They Deserve
In an effort to help more people become "Glorified Chefs," Glory Foods is supporting the Seasoned Cooking Bases with online and in-store sampling available in select stores, in select cities. People can also get demonstrations for making gravy online and Glory Foods' Seasoned Cooking Bases was featured at select community events during fall 2010. For more information about Glory Foods' Seasoned Cooking Base, visit http://www.gloryfoods.com.
Glory Foods' Top Five Fast & Easy Tips to Becoming A "Glorified Chef":
SEASONED THOUGHTS! Prior to preparing any meal, carefully think through which ingredients, pots and other cooking equipment you'll need to minimize the frantic searches through cabinets and refrigerators. Lay out your ingredients on a counter or table in the measurements your recipe requires and if possible, in the order you'll use them. Not only can this save time and organize your experience, but also it can minimize frustration.
THE GRAVY TRAIN! Make it your business to learn how to make a basic, flavorful gravy today. No matter how good (or bad) a cook you are, everything tastes better with gravy! Most gravies can be made in less than five minutes and can be used for a variety of things from dipping sauces to main course accompaniments. Go to http://www.gloryfoods.com for an online demonstration for creating a soulful, Southern-style gravy you can call your own.
PASS IT DOWN! The last thing you want is kids running around the kitchen when you're pressed for time. Think again! Delegating small, safe tasks such as measuring liquids, inventorying ingredients or even reading recipes aloud as you cook can not only save cooking time, but also increase quality time in a fun, educational way that can be passed down to generations of "Glorified Chefs."
THE RECIPE FOR RECIPES! Many things such as working late and surprise dinner guests to soccer practice and carpools can intrude on an already hectic schedule. Always keep a stable of recipes on hand that are customized to fast, easy meals. When you're in a bind, check out recipes at http://www.gloryfoods.com for instant access to many southern-style dishes that can be made in less than an hour.
PUT SOME BASE IN IT! While most fresh ingredients are great to spice up foods, they have a short shelf-life and can be costly. Consider all-in-one solutions such as Glory Foods' Seasoned Cooking Base that includes a special blend of premium ingredients like sweet bell peppers, garlic and onions; is dissolvable and ready to go in any recipe in minutes; and can be stored for up to three years.
Now, isn't it time you get the flavor you want and the Glory you deserve? Check out Glory Foods' Seasoned Cooking Bases at http://www.gloryfoods.com and become a Glorified Chef today!
ABOUT GLORY FOODS
Founded in 1989, Glory Foods is the category leader in Southern-style, heat-and-serve products including seasoned canned vegetables, cooking bases and fresh greens. Its Southern-style vegetables and side dishes are staples in American homes and offer convenient meal planning solutions for busy families. Glory Foods is a private, minority controlled business based in Columbus, Ohio. For more information, visit http://www.gloryfoods.com.
# # #