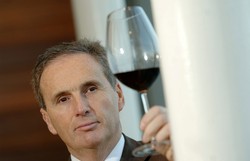 (PRWeb UK) November 1, 2010
Northern Ireland consumers are set for a bumper winter of wine, a panel of international producers will tell a Belfast audience at an exclusive tasting organised by local wine merchant James Nicholson.
More than 100 wines from across the world will be uncorked at the highly-anticipated sampling which takes place at the Merchant Hotel on 28th October and marks the launch of JNwine.com's new portfolio of Christmas wines.
Managing Director, James Nicholson said consumers were set to gain as fine wines enter the market at more affordable prices.
"The public's knowledge of wine has certainly increased in recent years and, while people are probably consuming less wine, they are consuming it in a clever, quality-conscious way. We've found that wine lovers are shopping around a lot more, looking at new varieties, grapes and producers and seeing that there is fantastic value to be had.
"Like all other sectors, winemakers too have had to adjust to changing market conditions over the last two years. The good news for consumers is that the quality of grapes is not affected by recession and there have been some outstanding harvests that are now hitting the markets."
Among the celebrated winemakers offering personal introductions to their produce will be Eva Schubert from Champagne-house Forget Brimont, GP Rotini from Italy's Award-winning Umani Ronchi, Sam Lockyer of Forrest wines in New Zealand, Marion Javillier from Burgundy 's Domaine Patrick Javillier and Ximena Pacheco from Chile's renowned Viña Casablanca.
Featuring some of the finest and best-value wines from around the world, the new portfolio from JNwine.com includes a collection of mixed cases designed to help customers spend wisely during the festive period. The collection also includes cases hand-selected from its shop by popular wine critic and author, Simon Woods and resident expert on BBC One's Saturday Kitchen, Susy Atkins.
To help ensure Northern Ireland shoppers get the most from their choices of seasonal wines James Nicholson offers the following top tips.
Try before you buy – Pre-Christmas Tastings
Northern Ireland has a vast selection of wine on offer and sometimes the only way to make a tough purchasing decision is try the goods firsthand. Shop tastings are a good way to find your style and are normally free and led by expert staff trained to help you with your selection. This year, the Crossgar team are conducting free tastings on selected wines from 1.00pm to 5.00pm every Saturday from 13th November up to 11th December.
Shop around
Where possible use independent wine merchants. You will find interesting bottles from producers too small to make it onto the shelves of the supermarkets. Often the merchant will have an in depth knowledge on the wines stocked and will have chosen them personally.
Buy by the case
Most merchants will offer a discount of 10 per cent or give you a free bottle with a case of 12 bottles. This means fewer visits to the shop and you get a better price for the same wine. Look for free delivery when ordering online – there is no delivery charge for 12-bottle cases bought for delivery in Northern Ireland from JNwine.com.
Tickets for the tasting at the Merchant Hotel on 28th October cost £15.00 and must be purchased in advance from JNWine.com. Places are limited.
For further information or details on JNwine.com's upcoming events or Christmas portfolio go to http://www.jnwine.com or call +44 (0) 28 4483 0091.
###