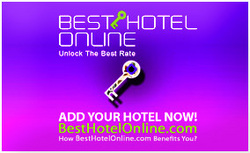 (PRWEB) November 3, 2010
The interface with Rate Tiger's RTChannelManager allows BestHotelOnline.com's hotel partners to effectively manage their room rates and inventory on http://www.besthotelonline.com and an array of online booking websites powered by BestHotelOnline via the one easy-to-use RTChannelManager system. BestHotelOnline.com Market Manager Stella Ng said "The interface brings mutual benefits to our hotel partners and our company. For hotels using RTChannelManager, the connection eliminates their need to log in to BestHotelOnline's online supplier platform to manually update rates and inventory. They can now update multiple channel partner sites via RTChannelManager which slashes man hours, so it saves cost and hassle!"
"We are pleased to work with such a high calibre management tool. Rate Tiger's channel management tool allows hotels to respond swiftly to dynamic market situations. It enables BestHotelOnline.com to get rate and inventory updates simultaneously with the hotel's online channel partners, this can avoid disparity issues between BestHotelOnline and other competing online booking websites due to a delay in rate update or manual errors by hotel staff. In addition, the interface with RTChannelManager helps to expand our reach to global hotels,said Stella Ng.
BestHotelonline.com's is aggressively expanding its hotel portfolio. It is now working very closely with multiple suppliers of channel management tool to allow the interface between BestHotelOnline's online suppler platform with the channel management systems.
About Rate Tiger
RateTiger is the main suite of products of eRevMax, a leading supplier of Online Distribution Management tools which established in 2001. eRevMax continues to pioneer new technologies for the hospitality industry in 65 countries and 750 cities worldwide and has become an industry-wide benchmark for managing online distribution. eRevMax employs over 170 people and is rapidly expanding across the European and American markets.
RateTiger suites operate across over 300 online distribution channels enabling hoteliers to switch from time-consuming complicated multi-channel processes to a single point of entry to the market. The products provide competitor rate analysis and updates third-party distribution channels and travel portals, in real-time.
RateTiger is headquartered in the US, with an EMEA HQ in London (UK) managing offices in Germany, Netherlands, Italy, France and Spain, and a technical development centre in India.
For more information please visit http://www.ratetiger.com.
About RTChannelManager
RTChannelManager combines the functionality of RTShopper and RTAllocator and provides enhanced features like Sold-Out Alert, Low Allocation Alert and Booking Confirmation. RTChannelManager helps hoteliers with the complex and time consuming exercise of updating third party distribution websites.
About BestHotelOnline.com
BestHotelOnline.com is an online hotel booking website offering travelers a choice of over 20,000 hotels around the world, covering over 120 countries and 3,100 cities.
We help travelers unlock the best hotel rate and source the best deal in their preferred destination. We provide travelers a state-of-the-art booking platform, including a mobile web, and fulfill their needs efficiently and effectively through delivering personalized and flexible services to our customers.
For more information, please visit: http://www.besthotelonline.com or contact:
Ms. Stella Ng
Market Manager
Phone: +852-2368 2673 (Hong Kong-based)
stellang(at)besthotelonline(dot)com
BestHotelOnline.com (Travel Agent Licence No.: 352269)
T: (852) 2311 8360 F: (852) 2366 1031
###