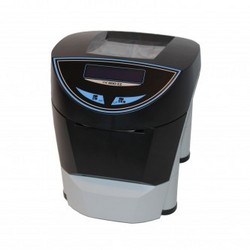 We have worked with National Ticket over the years to provide various types of printers to their clients, but having a formal partnership in place helps us support our clients' needs even better than before
Shamokin, PA (Vocus) November 2, 2010
Since 1907, National Ticket Company has been a leading ticket printer and wristband manufacturer serving some of the biggest names in the amusement, entertainment and sporting industries like Universal Orlando, Chuck E. Cheese's, Chicago's Joeffry Ballet, Six Flags, The Virginia Aquarium, Penn State University, University of Syracuse, University of West Virginia, Carmike Cinemas, Playhouse Square, Auburn University, Villanova University, Tampa Bay Rays, Detroit Pistons, Cleveland Indians, and many other notable clients.
In the past, National Ticket's clients were on their own to find a vendor who supplied ticket and wristband printers. That is no longer the case. "It just made sense to partner with experienced printer companies like Practical Automation and Stimare that offer reliable and dependable ticket printers. Now when we are sitting at the table with our clients, we can offer them a total solution to their ticketing and wristband printing needs, not just the media," says Jason Mauser, VP of Sales & Marketing for National Ticket Company. When asked about working with two printer companies that essentially compete against each other, Mauser responded, "We do not favor one over the other. At the end of the day, they both have great printers. It is up to the client to decide which printer solution best meets their needs. We are pleased to assist our clients in locating high quality printers that will facilitate a smooth ticketing procedure in their facilities.
"We have worked with National Ticket over the years to provide various types of printers to their clients, but having a formal partnership in place helps us support our clients' needs even better than before," says Frank Scolaro, Sales & Marketing Manager for Practical Automation. "And by using high quality ticket stock from National Ticket, our clients get first rate output from their Practical Automation printers."
When asked about partnering with National Ticket Company, Brian Dunphy, Founder and CEO of Stimare responded, "Our top quality thermal printers are complimented by top quality ticket stock from National Ticket. Therefore we know our customers will get the best results from our printers when they use National Ticket Company ticket stock."
About National Ticket Company
National Ticket Company, located in Shamokin, Pennsylvania is a family owned and operated business established in 1907, with clients in over 86 countries. National Ticket Company is one of the most respected names in the ticket and wristband printing business. National Ticket sells stock and custom designed thermal tickets and wristbands for thousands of clients in numerous industries including amusement parks, water parks, live theaters, movie theaters, museums, FEC's, minor league sports, high school sports, collegiate sports, professional sports, fairs and festivals, carnivals, zoos, aquariums, state fairs, local festivals, community events and more.
About Practical Automation, Inc.
Based in Milford, CT, Practical Automation is a Premiere Manufacturer of Specialty and Custom Printers Serving the Global Market for Nearly 40 Years. Their printers print cinema tickets, airline boarding passes, parking stubs, sporting event tickets, concert tickets, ATM receipts, HR and gift registry lists and the tens of thousands of transaction tickets produced each and every business day at the New York Stock Exchange.
About Stimare Limited
With offices in Bray, Ireland, London, UK and US offices in Chicago, IL, Stimare is the world's one stop shop for all Ticketing, Point of Sale (POS), RFID, Original Equipment Manufacturer (OEM) and Kiosk hardware. They focus on devising innovative, cost effective solutions that help their clients achieve previously unrealizable goals. Stimare printer products have delivered results for clients operating in Industrial, Retail, Hospitality and Event Management Sectors across six continents (Europe, North America, South America, Australia, Africa and Asia). Stimare can meet the needs of large international organizations requiring integrated global ticketing solutions as well as smaller, single-location clients looking to source the latest printing technology.
###