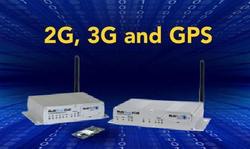 With more than 20 million devices deployed worldwide and 40 years of design and manufacturing experience behind us, Multi-Tech's solutions provide the reliability our customers expect
Minneapolis, MN (Vocus) November 2, 2010
Multi-Tech's device networking products now include 3G technologies (HSPA and EV-DO), creating the most comprehensive 2G and 3G cellular modem portfolio available - along with more functionality than ever before. Customers now have the option to choose the most cost-effective solution to meet their needs. Whether it is 2G or 3G connectivity, Multi-Tech makes it easy to convert to wireless connectivity or migrate to the latest technology. Approved by carriers as an end-solution, Multi-Tech's external or embedded products are ready-to-integrate, significantly speeding up time-to-market and eliminating costs associated with approvals and development.
"With more than 20 million devices deployed worldwide and 40 years of design and manufacturing experience behind us, Multi-Tech's solutions provide the reliability our customers expect," said Jim Cairns, Vice President of Marketing and Business Development. "This new 3G offering presents additional options for companies to choose the most affordable solution while benefitting from the enhanced M2M functionality included in these products."
Beyond faster upload and download speeds, Multi-Tech's intelligent line of 3G products features enhancements that create robust M2M communications solutions, including event monitoring and reporting via programmable GPIOs, Web-based management and over-the-air carrier activation. GPS tracking is an available option as well. This expanded and enhanced product portfolio provides customers with the latest technology advancements to support highly data-intensive applications where accurate real-time data is essential, like fleet management, asset tracking, telematics, smart energy, home and mobile healthcare, digital signage, financial, retail and remote monitoring and diagnostics.
Multi-Tech's newest line of carrier-approved, ready-to-deploy cellular modems and routers, comprising the MultiModem® iCell intelligent cellular modems, the MultiModem® rCell intelligent cellular routers, and the SocketModem® iCell embedded intelligent cellular modems, offers businesses a choice between 2G and 3G technologies to make efficient use of expanding cellular networks.
About Multi-Tech Systems
Multi-Tech products and services create the shortest path to adding wireless communications to any solution. Multi-Tech® Systems is a global manufacturer of award-winning device and embedded modems and Unified Communications products that connect data over cellular networks from anywhere in the world. As a leader in the industry for 40 years, Multi-Tech's reputation for reliability and innovative design is evident with 80+ patents, 20+ million devices being used by thousands of customers worldwide and certifications from more than 30 carriers and over 80 countries. In 2010, Multi-Tech launched a comprehensive services program, as well as a Cellular Development Platform and Developer Resources website: http://www.multitech.net. Multi-Tech is certified by the WBENC as a Women's Business Enterprise and by C-TPAT (Customs–Trade Partnership Against Terrorism). Visit http://www.multitech.com. Follow Multi-Tech on Twitter: twitter.com/MultiTechSys
###