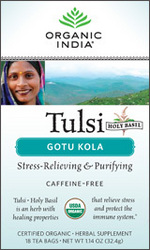 This is a wonderful blend for dealing with stress and memory loss
Boulder, CO (Vocus) November 2, 2010
ORGANIC INDIA announces the availability of Tulsi Gotu Kola Tea in boxes of 18 teabags, or in 1 lb. bulk packages of loose leaf tea. Tulsi Gotu Kola Tea is available immediately at http://organicindiausa.com/_product_5837/Tulsi_Gotu_Kola_Tea, and will be hitting store shelves in the coming months.
Tulsi Gotu Kola Tea weaves the stress-busting properties of Tulsi (Holy Basil) with the memory-enhancing potential of Gotu Kola to create a unique formula that calms nerves while boosting mental clarity. Tulsi and Gotu Kola, both powerful adaptogens, work synergistically to help the body process stress while simultaneously providing mental energy and focus.
"This is a wonderful blend for dealing with stress and memory loss," states Prashanti de Jager, ORGANIC INDIA's Emissary of Education. "Tulsi and Gotu Kola go together so well," continues de Jager, "and the benefits of this blend extend far beyond what these herbs can do individually. Tulsi helps the body assimilate Gotu Kola, which increases the efficacy while providing relaxation and rejuvenation."
Throughout India, Tulsi is considered "The Queen of Herbs" and is revered as a sacred plant infused with healing power. Traditionally grown in an earthen pot in every family home or garden, Tulsi possesses wonderful health benefits. Tulsi's remarkable life-enhancing qualities are noted repeatedly in ancient Indian scriptures dating back 5,000 years.
Gotu Kola (Centella asiatica), also known as Brahmi, has been used as a medicinal herb for thousands of years throughout Asia. Traditionally, Gotu Kola has been used to heal wounds and improve mental clarity. In China, Gotu Kola is called "The Fountain of Life," stemming from a legendary Chinese herbalist who used the herb to live for 200 years.
As with all ORGANIC INDIA products, Tulsi Gotu Kola Tea is produced in India using certified organic and biodynamic agricultural methods. Tulsi Gotu Kola Tea is naturally caffeine-free, gluten-free and is certified Kosher.
About ORGANIC INDIA
ORGANIC INDIA works with thousands of family farmers in India, cultivating tens of thousands of acres of certified organic farmland. The farmers are commissioned to grow organic crops, which ORGANIC INDIA purchases at a premium market price. ORGANIC INDIA supports their farmers by providing training, health care and education that enable them to be self-sufficient and to develop organic farming skills that will be passed on to future generations.
ORGANIC INDIA markets certified organic, biodynamic and ethically wildcrafted products throughout India, the United States, Israel, the United Kingdom, the Czech Republic, Japan and Australia. To purchase products or for more information, please visit http://www.organicindiausa.com.
###