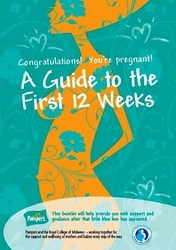 (PRWeb UK) November 2, 2010
A recent survey* conducted by Pampers and the Royal College of Midwives (RCM) found that 85 percent of women assumed that a GP is the first person to visit to confirm their pregnancy, when in fact they can go straight to their midwife.
Furthermore, the Pampers and the Royal College of Midwives survey found that one in ten women admitted to not knowing who to visit at all. While surprisingly less than half of the women surveyed declared that happiness was the overriding emotion they felt when discovering they were pregnant.
In response to these findings, and to help alleviate the anxiety felt during pregnancy and let expectant parents concentrate on enjoying this special time, leading baby care brand Pampers has teamed up with the RCM to create a free no-frills 'Guide to the First 12 Weeks' of pregnancy.
The guide provides useful information to overcome common misconceptions and support mums and dads in the early stages of pregnancy, outlining the advice networks available, as well as what you can expect from your midwife over the next nine months. A copy of the guide is available to download for free from pampers.co.uk or rcm.org.uk
Louise Silverton, RCM Deputy General Secretary comments: "While most people think of their GP as the first port of call for everything, it is a lesser known fact that women can actually refer themselves straight to a midwife once they know or suspect that they're pregnant. They do not need to go via their GP unless they wish to do so."
Catherine McGough, spokesperson for Pampers says: "While finding out you're pregnant can be an incredibly happy moment, women can also find it an anxious time as they wait for the first scan and can only share the news with their nearest and dearest. We hope this guide will help parents to relax and enjoy the first 12 weeks a little more."
Visit pampers.co.uk or rcm.org.uk to download the guide for free.
###