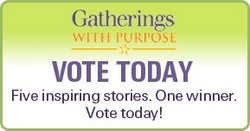 The stories spotlighted families and friends who volunteered together to meet a community need, raise money for a local cause or add a volunteer activity to a social gathering.
Le Claire, IA (PRWEB) November 2, 2010
Vote online to reward a volunteer who gathered to give back.
Five national finalists were selected in Modern Woodmen of America's second annual Gatherings with Purpose Giveaway. The finalist earning the most votes in the online contest at http://www.gatherings.info will win the grand prize - $2,500, plus a $2,500 donation for the worthy cause described in his or her submitted story.
Stories were entered in the online contest between Oct. 4 and Oct. 25. The stories spotlighted families and friends who volunteered together to meet a community need, raise money for a local cause or add a volunteer activity to a social gathering.
Visitors can vote daily through Nov. 15. The five finalists include:
Walter Arnett, Lexington, Ky., who worked with five friends to organize a competitive gathering to raised money for the Kentucky Children's Hospital Fund. The result was a basketball shoot-out between local college students, in which the children were the real winners.
To organize the event, Arnett purchased 50 basketballs and built his own racks for the 3-point shoot-out out of ironing boards. He asked for a simple $10 donation to enter and put up his own money as the prize. A total of 60 people competed in the event, which allowed Arnett to make a $600 donation to the children's hospital fund.
Tom Bellamy, Winter Garden, Fla., who decided to host a Christmas party for less fortunate Central Florida residents who would be alone for Christmas.
The Bellamy family invited a group of local people in need to its home on Dec. 12, 2009, and served them a festive lunch from a local BBQ restaurant. To help celebrate the season, they created three games in which partygoers had the opportunity to win prizes – Bingo, a Christmas word search puzzle and Wii bowling. Prizes ranged from gift cards to iPod shuffles, candles, wallets with money and much more. Bellamy, who dressed up as Santa Claus at the beginning of the party, also gave partygoers several presents to open on Christmas Day. (continued)
The Bellamy family enjoys the festive gathering so much that it's become an annual tradition.
Michelle Carter, Bass Harbor, Maine, who organized a gathering in honor of her father, who passed away in 2008. The life of the party, her father was the one everyone could count on to tell jokes and keep everybody entertained. The Fourth of July family reunions, which consisted of camping, cookouts and fireworks, were especially hard without Dad around.
In 2010, Carter's family decided to celebrate her father's life by adding purpose to their annual reunion. They did this by paying respects to one of her father's favorite activities – dressing up as Santa for their local Secret Santa program.
They gave the reunion a "Christmas in July" theme and asked all family members who were attending to bring a toy to donate in her father's memory to the Tremont/Southwest Harbor Secret Santa Program. The response was overwhelming, and they donated 72 items.
Holly Coker, Republic, Mo., who shared the story of "The Bag Ladies," a gathering of women organized to help kids in crisis. The group committed to meet and sew unique, personalized bags for children who were moving into foster care or a shelter.
They made their first delivery to the Family Violence Center of Springfield in October 2009, and have been gathering to create bags ever since. While they started making bags for only one shelter, they now deliver to three agencies.
Shayla Williby, Oberlin, Kan., who shared the fortitude of volunteers after the bowling alley in Oberlin burned down. At that time, residents saw a need and an opportunity – to tear down the community's dilapidated senior center and theater as well and rebuild all three in one facility. All three gathering places were vitally important to the 1,700-resident community.
On Jan. 31, 2009, 60 volunteers gathered to start the demolition of the old senior center and theater. The volunteers tore down walls, carried out the old theater seats and did anything needed to get the project started.
Visit Gatherings.info to read more about each finalist and vote.
Modern Woodmen members gather with purpose through local chapters and youth service clubs nationwide. This giveaway is an opportunity to thank others who are also improving communities through volunteerism.
Founded in 1883, Modern Woodmen of America touches lives and secures futures. The fraternal benefit society offers financial services and fraternal member benefits to individuals and families throughout the United States.
###