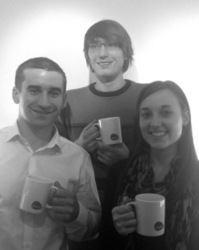 The response we received through social media channels saved us significant expenditure on recruitment consultants
(PRWeb UK) November 5, 2010
Attacat Internet Marketing, the Edinburgh based digital agency, have taken on 3 new recruits in under a month. This follows a series of client wins, increased work from existing clients and a very successful recruitment round.
Attacat had intended to only take on two new members of staff, but decided to take on a third due to the high quality of applicants. Ben Rogers, Director, said "We set out to just recruit two new members to the team, however the quality of the applicants was so high that we actually decided to take on a third and would have taken on more if we had space in the office. The response we received through social media channels saved us significant expenditure on recruitment consultants."
The number and quality of the applicants also inspired the company to lay on a well attended feedback event for the unsuccessful applicants of the fiercely fought graduate position. "We had had a lot of requests for feedback from applicants and as things are pretty tough out there for graduates at the moment, we felt that holding an event to run through the details of our recruitment process would be helpful and just the right thing to do, given the amount of effort that goes into applications. It turned out to be an incredibly positive experience," said Tim Barlow, Attacat's managing director.
Commenting on the company's blog, one of the applicants Jenny Gow said, "It's so difficult to stay motivated and positive when looking for work (particularly graduate positions) so to be afforded this amount of time and energy by a company completely off their own back is very helpful and reassuring that people actually do value the effort put into job applications."
The successful applicant of the graduate position was Rachel Bielinska, a first class honours graduate of the University of Stirling who joins Attacat as an Account Executive. The other new starts are both experienced internet marketers. Kiril Bunin takes on the role of Conversion Rate Optimisation Specialist (a role that focuses on getting more of a website's existing visitors to be converted into paying customers) and Steve Hope who joins Attacat from a multi-national media buying firm in the role of Search Engine Marketing specialist.
Tim Barlow, Managing Director added: "This recruitment round has been unusual in so many ways. The number of applicants, the engagement we've had with applicants and even the way people have been finding us. The influence of Twitter has also been very notable. Not only did news of the available posts spread very quickly by Twitter, but it is also clear that many of the best applicants had already identified us as somewhere where they would like to work through Twitter."
About Attacat Internet Marketing:
Edinburgh-based Digital Marketing Agency, Attacat has specialised in search engine marketing and internet marketing since it was launched; with MD, Tim Barlow, having more than 11 years search engine optimisation experience. The company has assisted 14 companies to generate their first £1million pounds of internet-generated turnover. For more information about Attacat please visit http://www.attacat.co.uk.
Details of the recruitment feedback event can be found at how to get an entry level job at Attacat and the new recruits at meet the team.
Contact details:
Tim Barlow, Managing Director, Attacat Ltd

Tel: 0131 220 1441
Address: 26 St. Stephen Street, Edinburgh, EH3 5AL
E-mail: tim(dot)barlow(at)attacat(dot)co(dot)uk
# # #