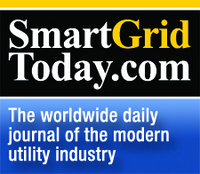 Rockville, MD (PRWEB) November 3, 2010
The smart grid -- shorthand for adding two-way communication and computerization to the electricity system -- could save billions of dollars worldwide in avoided power plants and spending by both utilities and consumers, while cutting greenhouse gas emissions. But consumer participation, through trimming usage and responding to changes in power cost throughout the day, is essential to the smart grid's success.
How can this complex topic be communicated simply to the public -- that is to say, all of us? Is there a symbol that will not only make the concept understandable but desirable?
About 50 people from organizations inside and outside the electric utility industry gathered in a big, white, noisy room at San Francisco's Frog Design recently for a day-long "think-in" intended to create a universally recognizable, emotionally appealing symbol for the smart grid and energy efficiency.
Smart Grid Today, the worldwide daily journal of the modern electric utility industry, provided this exclusive, in-depth coverage of the event to its subscribers last week.
"The World Wildlife Fund has its panda," said Jesse Berst, acting director of the Smart Grid Consumer Collaborative, an industry group formed to make smart grid more comprehensible to the public. "Lance Armstrong gave us the 'Live Strong' yellow wristband to help fight cancer. What we're after is a way to help consumers worldwide relate to the smart grid in the same way. It's quite a challenge. It needs to touch hearts and appeal to the head. It has to be understandable to rich and poor, technical and non-technical folks. We're here to find our panda."
No symbol or campaign currently in existence quite does the trick, Berst said. The Energy Star logo is industrial and has no emotional resonance, though "it's the closest thing we have right now." A green 'Live Strong' wrist band? "Too easy."
SOCIETAL ISSUE IDENTIFIED
Frog Design, an industrial-design firm that helped shape Apple's IIe and Mac computers, offered its headquarters and staff as an in-kind payment for membership in the collaborative. "We're lucky to have Frog Design, the cool kids, on our side in this," Berst said.
But Frog Design independently determined this summer that the smart grid as a societal issue was something it wanted to get involved with, David Merkoski, executive creative director, told us, adding, "We already realized it needs a symbol that people can display that says 'You believe in a cause, just like I do'."
The day began with about 20 frogs -- as the design firm's staffers call themselves -- passing out color postcards of varied images to all participants, who came from organizations including Accenture, Adidas, Cisco, Control4, DOE, Ember, GE, PG&E, Stanford University, Silver Spring Networks and Yukon Energy. Many were stepping well outside their comfort zones in spending the day free-associating and brainstorming.
The images included Lego blocks, a Giacometti sculpture and the Great Sphinx of Giza. "The choices were quasi-random," Merkoski said. "They're not about energy. They're designed to elicit feelings and thoughts, to be generators."
IDEAS BOIL TO SURFACE
People taking part wrote on a yards-long sheets of white paper up to 25 words they associated with the image they had been given. Frogs tagged each word with a sticky note color-coded pink for nouns, yellow for possible icons and gray for energy-related terms.
The frogs then grouped one pink, one yellow and one gray note onto single sheets called "stitches." Participants then broke into subgroups and free-associated on the stitches, coming up with "half-baked ideas -- the less baked, the better," said Michael DiTullo, a creative director who helped lead.
Much gesticulating and vigorous, if random, conversation ensued.
"Live in a modern forest," one group said to Ratna Desai, another session leader. "Reduce temperatures. A reachable future. An ideal future." Tim Morey, yet another session leader, heard participants riff on a sketch of a throne. "Some mysteries you don't question, because you trust them," said Sharon Talbott, a manager at Control4. "Energy has parameters. It sets the rules. It's the ruler."
Fractals and photo mosaics emerged as an idea in another group. The image of a boiling kettle was cause for musing -- "it tells you when it's ready. It's an excellent image of how energy is used," group participants told frog Katie Dill. "Whatever the symbol is, it has to be muscular, US-centric, with no question about patriotism," said Linda Schuck, director of the Behavior, Energy and Climate Change Project at the California Institute for Energy and the Environment.
"I know the process seems random at the outset -- and it is," Sara Munday, Frog Design marketing director, said during a break. "But the more you narrow it down at the outset, the more you limit what comes out of any creative exercises."
Lisa Magnuson, marketing director at Silver Spring Networks, found the two-hour free-association session exhilarating. "It's so cool to bring together a group of people who all have such different perspectives and just let them roll," she said.
Then frogs chose their favorite stitches and pitched them to other frogs, winnowing out a handful for further consideration. Those remaining were subjected to yet more group brainstorming. The room grew warmer and noisier. "We have now created confusion and uncertainty," Merkoski said. "It resulted in some excellent ideas."
PEACE SYMBOL RESURRECTED
By lunch, no panda had emerged. But 50 ideas had. Among them: the slogan "Power it forward." The peace symbol modified to look like an electric plug. A large numeral 1, symbolizing the difference one person can make. Three fat concentric arrows facing upward, resembling a house and symbolizing the individual, community and world interacting.
In the afternoon, divergent thinking gradually became more convergent. Frogs had grouped the 50 best ideas into five themes, and participants gathered near the theme they found most appealing. The themes …
To read the full story, visit https://www.smartgridtoday.com/members/login.cfm?hpage=2233.cfm and sign up for a 14-day, risk-free trial.
About Smart Grid Today
Smart Grid Today is the worldwide daily journal of the modern utility industry. Delivered by email each business day, Smart Grid Today features independent, unbiased reporting on the smart grid industry including federal and state grants and regulations; the evolution of legal issues; technology and service breakthroughs, bells, whistles and lemons; the twists, turns, foibles and slam-dunks of technology firms and service providers plus who's teaming with who and why and much more. Smart Grid Today features a complete searchable archive of past stories and downloadable PDF files, a reader forum, industry directory, events calendar, discounts off selected items and more.
Smart Grid Today Contact
Season Crawford
Associate Publisher
+1-301-769-6903
###