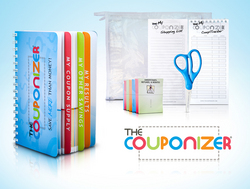 "As our business grows, we are continually improving the online experience for our customers. In the busy days leading up to the holidays, I recognize that time on our website is limited for customers. - Amy Bergin
Cumming, GA (PRWEB) November 3, 2010
The Couponizer Company is proud to announce the launch of a new online store provided by Nexternal Solutions. The Couponizer Company's premier product, The Couponizer® was introduced at the 2002 Atlanta Home Show. It has steadily risen to be the system of choice with new and seasoned coupon users alike, mostly due to its award winning design and the unprecedented increase in coupon usage during this tough economy.
"As our business grows, we are continually improving the online experience for our customers. In the busy days leading up to the holidays, I recognize that time on our website is limited for customers. Because our new store optimizes the online shopping experience, it makes purchasing faster, easier and more interactive." comments Amy Bergin, President, The Couponizer Company. Nexternal's dedicated account representative Bobby Cintolo shares: "We are pleased to present our e-commerce solution to The Couponizer Company since providing tools that grow our client's business is the cornerstone of our success. Our 'Always On Screen Shopping cart' reduces the number of pages and clicks customers go through during their shopping process; and the integrated marketing and promotional tools allow connection with Facebook and Twitter so customers can easily opt to share both products and their purchases on both social media sites."
In 2009, the second edition Couponizer was released, a higher quality product at the same price. Sold primarily on the Internet at http://www.thecouponizer.com, The Couponizer Company has sponsored hundreds of reviews and giveaways to introduce their product to new audiences, and when Moms and other savvy consumer writers/bloggers find and write about a product that actually saves them money, people listen. Jill Cataldo, one of the premier coupon experts in the country from http://www.supercouponing.com recently hosted a giveaway and shares: "I recently gave away a Couponizer to one of my readers, and it was one of the most popular giveaways I've hosted on my blog. My readers loved the Couponizer, and some of them noted that they would not have been aware that this product existed had I not written about it. Many went on to order the Couponizer for themselves, and others noted that it's at the top of their wish lists for the holidays!"
The Couponizer Company is headquartered in Cumming, GA and was formed in 2002 to support the sale and distribution of The Couponizer®. Amy Bergin is a former corporate trainer and Mom of three children. She developed the system after realizing that overspending diminishes progress towards family financial goals. The 6 piece system includes everything needed to simply get organized with coupons and deals, then stay motivated to keep saving. It changes the way consumers shop by providing order, structure, efficiency and support for planning, shopping and buying everyday items while maintaining a budget.
Nexternal Solutions, Inc. is a leading provider of web based ecommerce software. Founded in 1999, Nexternal's unique ecommerce system is used by hundreds of clients in many diverse industries. Nexternal is headquartered in Carlsbad California and has satellite offices in both New Canaan, Connecticut and Lynnwood, Washington.
Press Contact:
Susan Zingraf
susanzingraf(at)comcast(dot)net
317-201-0601 (c)
# # #