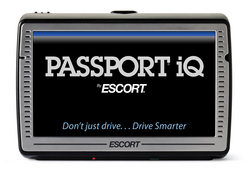 We are excited about providing the first convergence of state-of-the art radar and laser detection, 3D GPS navigation, red light and speed camera notifications, speed limit information, and much more
Las Vegas, NV, SEMA Show (PRWEB) November 2, 2010
ESCORT Inc., the leading manufacturer of premium automotive electronic accessories and maker of the world's best radar and laser detectors, announces at the 2010 SEMA Show the release of the patented PASSPORT iQ™, the world's first and only driving accessory that integrates radar/laser detection and GPS navigation, and also provides important driving information, such as speed traps and speed limit data, in a single compact device.
"We are excited about providing the first convergence of state-of-the art radar and laser detection, 3D GPS navigation, red light and speed camera notifications, speed limit information, and much more," said John Larson, ESCORT President and CEO. "The PASSPORT iQ™ is your ultimate driving companion."
Debuting at SEMA (Specialty Equipment Manufacturers Association), the revolutionary PASSPORT iQ™ will be on display along with the entire line of ESCORT's award-winning, premium mobile electronics products Nov. 2-5, booth # 11445 (North Hall). CEO John Larson and the ESCORT executive team will be in the ESCORT show booth in direct support of the product launch and will be communicating new product and company news to multiple radio/print/TV interviews.
ESCORT invites all show attendees to visit the booth and see the SEMA show's most revolutionary product, the PASSPORT iQ™. To help underscore the iQ™'s launch, ESCORT has placed a 25' magnetic outdoor billboard on the SEMA Convention Center's North Hall and is inviting attendees to sign up for a drawing to win a new PASSPORT iQ™. New product demonstrations and interviews will be ongoing through the four day event.
ESCORT and Rahal Letterman--Le Mans Series Racing
In addition to showcasing and announcing the all new PASSPORT iQ™ and other premium automotive accessories, ESCORT is hosting a meet and great for SEMA Show attendees with two-time Indy 500 winner and International Motorsports Hall of Famer, Bobby Rahal. Mr. Rahal, President and CEO of the Bobby Rahal Automotive Group, is appearing in the ESCORT booth on Wednesday, beginning at 11 AM. ESCORT is a proud sponsor of the BMW Rahal Letterman Racing Team and will have a Team Rahal BMW race car in the booth.
The All-new PASSPORT iQ - Integrated Radar/Laser Detector, GPS NAV and much more
The new PASSPORT iQ™ sets the standard for protecting consumers from unwanted tickets and guiding them safely to their destination.
Assuming the form of contemporary GPS personal navigation devices, the new PASSPORT iQ™ is framed in landscape profile with a large 5-inch full-color touchscreen.
"ESCORT engineers were able to change the standard radar detector form by designing a radically new microwave antenna assembly," said Tim Coomer, ESCORT's Vice President of New Product Development. "Until the merging of these two major mobile technologies by ESCORT, drivers had no choice but to purchase and connect separate driving devices at the same time. The PASSPORT iQ™ accommodates and combines these technologies into one, easy-to-use device."
Never-ending innovation at ESCORT helps to support their increasing 85% share of category patents. With the new PASSPORT iQ™, ESCORT engineers have reached a new pinnacle of product development within the radar detector category.
"With our innovative product engineering and our strong patent portfolio, we are the only manufacturer able to provide drivers the opportunity to combine the key technologies of radar and laser protection, GPS navigation and important driving information in a single package," said Dave Smidebush, ESCORT Vice President of Marketing. "These integrated benefits can't be found in a PND, a smart phone, other portable devices or as an OEM option on new vehicles," he added.
The PASSPORT iQ™ is based on the PASSPORT 9500ix, ESCORT's award winning GPS-enabled windshield mount radar and laser detector. The new PASSPORT iQ™, with a 5" color touchscreen, takes radar detection to a new level by clearly providing drivers with their current speed and heading as well as speed limit information. The PASSPORT iQ™ conveniently provides warnings if speed limits change and drivers are exceeding the posted speed. In addition, the PASSPORT iQ™ clearly overlays red light cameras, speed cameras, and high risk speed traps on the navigation screen. The PASSPORT iQ™ features a user-friendly choice of visual and audio alerts and can be displayed in selectable formats and colors.
Like other premium ESCORT products such as the PASSPORT 9500ix and 9500ci, the PASSPORT iQ™ uses artificial intelligence and includes ESCORT's patented AutoLearn™ feature, which automatically identifies and analyzes all radar sources. This technology allows the PASSPORT iQ™ to determine which threats are real and automatically locks out those that are false, including automatic door openers, motion sensors, and other sources that cause competitor radar detectors to constantly false alert when no real threats actually exist.
In addition, the PASSPORT iQ™ comes with ESCORT's Defender™ Database, winner of the industry's leading data-accuracy test for threat locations. The PASSPORT iQ™ is USB-web ready for updating the Defender™ Database with the latest safety camera and speed trap locations.
The PASSPORT iQ™ offers easy-to-read 3D maps powered by NAVTEQ, voice-guided turn-by-turn directions and lane-assist—all of which provide comprehensive directions and updates for driving anywhere, anytime. Drivers can choose to use the PASSPORT iQ™ in the NAV mode with on-screen 3D mapping or select to display the PASSPORT iQ™ in the detector mode. In either format, drivers receive both visible and audible turn-by-turn directions to their mapped destination while always being protected from ticketing threats.
"Truly shifting the category forever, the PASSPORT iQ™ starts with industry leading protection of the PASSPORT 9500ix, adds the 5" color touchscreen display, provides speed limit information, over-speed alerts and more, while also integrating very intuitive, high-end navigation capability—all in one product. There quite simply is nothing else like it," Larson said. The PASSPORT iQ™ helps you drive smarter by providing all the information necessary to help you avoid unwanted tickets while safely guiding you to your destination.
The PASSPORT iQ™ Radar/Laser Detector with GPS navigation starts at $649.95. The PASSPORT iQ™ is compatible with ESCORT's ZR4™ Laser Shifting System, the ultimate laser protection, and ESCORT's line of detector driving accessories. The PASSPORT iQ™ includes a free 90-day subscription to ESCORT's Defender™ Database and comes with a 30-day, worry-free test drive standard with all ESCORT products.
All-new Solo S3 Cordless Portable Radar Detector
ESCORT has long held the lead in portable radar detection and has just announced the release of the all new PASSPORT Solo S3™ battery powered portable platform which highlights world class leading radar and laser detection in a cordless model. The new S3™ with improved performance, comes in a sleek package that easily travels everywhere you go. This portable model features all-band, 360-degree radar/laser detection, and high-efficiency power management that maximizes battery life, multiple user selectable features, a new high-resolution energy efficient OLED display and is compatible with ESCORT's optional SmartCord.
PASSPORT 9500 Series – the 9500ix™ Windshield Mount and the 9500ci™ Custom Installed Models
ESCORT developed the world's first Internet ready, GPS based radar detectors—the PASSPORT 9500ix™ windshield mount model and the PASSPORT 9500ci™ custom-installed version. Both models introduced the patented AutoLearn™ feature with artificial intelligence, now included in the all new PASSPORT iQ™, all models which use GPS technology to automatically eliminate false alerts by indexing their exact location and frequency. And the PASSPORT 9500ix™ and the 9500ci™ radar detectors also introduced the award-winning ESCORT Defender™ database, included in the PASSPORT iQ™, allowing the iQ, ix and ci models to identify and protect drivers against the fastest-growing threat drivers face today: the increasing numbers of speed traps and fixed-position speed and red-light cameras. This artificial intelligence makes the PASSPORT iQ™ and 9500 series radar detectors the most accurate and intelligent detectors on the road.
PASSPORT 8500 Qi45
The new Qi45™ radar detection system, available at Best Buy, is based on the award-winning PASSPORT 8500 X50™ radar detector platform. The Qi45™ Custom Installed Radar and Laser Detector continues ESCORT's industry leading role. Long known for effective radar detector innovation and patent producing designs, ESCORT created the new Qi45™ to offer customers a more comfortable price point for a custom-installed solution.
REDLiNE™
No radar detector on the planet has longer detection range than the award winning ESCORT REDLiNE™ windshield mount radar detector. Designed specifically for hard-core, pedal-to-the-floor driver who needs to know about every signal at the longest possible range, the REDLiNE™ exceeds all current test range capability. "We tested the new REDLiNE™ at the Speed Measurement Labs annual shootout and they could not find a range long enough to measure the limits of its performance. The test range was limited to 13 miles!" said Coomer. REDLiNE™'s incredible sensitivity can be attributed to its unique receiver design which incorporates a patented twin antennae system and dual LNA (low noise amplifiers). This technique allows it to maximize performance by band, providing the earliest warning possible.
Beyond Detectors
Within the past three years, ESCORT has dramatically moved beyond radar and laser detectors. SEMA show attendees will be able to see ESCORT's complete line of new premium automotive accessories including:

ESCORT Entourage PS (portable solution) and Entourage CIS (custom-installed solution): GPS Personal Security products that can keep tabs on the whereabouts of young children or track the location of vehicles. The PS model incorporates an internal rechargeable battery, providing up to seven days of coverage, and is portable enough to go anywhere, while the Entourage CIS model is designed to be permanently installed in a vehicle and offers additional features such as always-on cellular communication, tamper-sensing capability and automated arming and disarming with its wireless key fob. Optional vehicle monitoring and recovery services are also available.
The New ESCORT Guardian Alert® Reverse Obstacle Detection System: In spite of diligent drivers who check every mirror for obstacles before shifting into reverse, backing-up accidents still occur, and account for approximately 500 fatalities each year, most involving young children. With consumer safety in mine, the new ESCORT Guardian Alert® Reverse Obstacle Detection System gives drivers a tool that dramatically reduces the risk associated with this unfortunate, but now preventable, everyday event. Competitive systems typically use ultrasonic sound waves or cameras, which can be subject to failure due to weather and road debris issues such as sleet, rain, snow, mud, dust and dirt. The new ESCORT Guardian Alert® Reverse Obstacle Detection System avoids all of these issues by using Doppler microwave radar which provides excellent performance in all environments.
ESCORT SmartMirror™: With convenience and safety in mind, the ESCORT SmartMirror™ is a technology center that will change the way you look at the road. This OEM replacement mirror features integrated GPS navigation, Bluetooth® hands-free mobile phone operation (compatible phones) and a backup camera for added safety when operating your vehicle in reverse.
ESCORT's Defender™ BlackBerry Smartphone App: The App can be downloaded directly from the [BlackBerry App World site. The Defender™ application, like most BlackBerry Smartphone apps, is an automatic installation. Once turned on, the Defender™ app works continually to protect drivers instantaneously by using GPS navigation and stored reliability points used as traffic alert information—the data points are communicated to the BlackBerry Smartphone via the BlackBerry mobile phone network so drivers are protected anywhere they drive throughout North America. In a recent head-to-head test conducted by RadarTest.com, the Defender™ database scored head and shoulder above all other competitors for overall accuracy. According to RadarTest.com, the Defender™ Database accurately identified 95% of all camera locations tested, while the next closest competitor only identified 66% of these locations.
For more information about the new PASSPORT iQ™, the new Solo S3™ cordless detector, PASSPORT 9500 Series radar detectors, REDLiNE, Entourage Security Products, Guardian Alert® Reverse Obstacle Detection Systems, SmartMIrror and ESCORT's other premium automotive accessories, visit Escortinc.com or call 1.888.265.9391.
About ESCORT Inc.
ESCORT Inc. is the leading manufacturer of high-performance radar and laser detectors, Entourage GPS enabled navigation and tracking products and other Drive Smarter products. ESCORT manufactures products under the ESCORT, PASSPORT, REDLiNE, SOLO, Vector and BELTRONICS brands. The company is headquartered in West Chester, Ohio with its principal manufacturing facility located in Mississauga, Ontario, Canada.
Editorial Contact:
Ron Gividen
513.870.8500
press(at)escortinc(dot)com
###