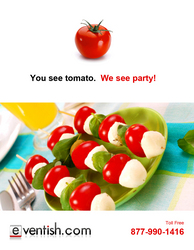 So let the world hear about your event!
Sherman Oaks, CA (PRWEB) November 2, 2010
November is the month of Thanksgiving and the start of the holiday season. To kick off the season, Eventish.com announced that it will waive all fees associated with online event ticket sales for the first 10 charities and non-profit organizations that register their events with Eventish.com. The Eventish team wants to offer its powerful and innovative event management, marketing and online ticket sales tools to charitable organizations to make their fundraising dinners, conferences or walkathons affordable, successful and easy to manage. So let the world hear about your event!
Eventish.com was developed with one main purpose – to provide a fully-featured event management website, which will serve as a single solution for both event holders and event attendees. It enables anyone to manage, promote and sell-out events using a variety of free or affordable tools. With three different payment processing options, custom event setup features, along with social media integration, email and other marketing tools, the site is quickly becoming a valuable tool for many users.
The company is committed to empowering events for all interests regardless of their type, size or location by providing all the essential tools needed throughout the event lifecycle. From free event registration and publishing to one-click Facebook integration Eventish.com allows for anyone to get started within minutes. Social media presence enables event holders to share their events with their friends and social networks directly from the website. The secured gateway allows for fast and secure transactions, event registration and ticketing.
Moving forward, Eventish.com expects to launch its new Facebook integration tool that will allow event organizers to easily export their events either from Eventish.com to Facebook.com or vice-versa. Eventish is a subsidiary of NexusLab, a Los Angeles based Inc5000 company.
If you would like more information about this topic or to speak with a representative, please contact Armen Margarian by phone at 818-990-1416, or by email at info(at)eventish(dot)com.
###