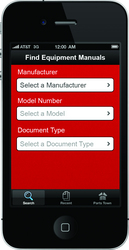 This technology will further reduce paper and faxes, save space, and most importantly enable technicians and restaurant operators to complete repairs more quickly and accurately
Addison, IL (PRWEB) November 2, 2010
Parts Town, the fastest growing Restaurant Equipment parts distributor in the world, has announced the "Parts Town App" now available at the Apple App Store on I-Tunes. This historic launch marks the first time that a restaurant equipment parts distributor has developed and launched an App to support its customers and manufacturers. Parts Town has been recognized as a leading innovator in delivering unique customer service and E-commerce solutions.
"The Parts Town App is yet another step in our web-technology plan to improve the customer experience in genuine OEM parts research and purchasing," states Emanuela Franzone, E-Commerce Director for Parts Town. "Our strategy has always been focused on delivering unique solutions to improve the productivity of our customers and drive cost savings for their operations."
The Parts Town App allows users to access technical manuals for over 15,000 restaurant equipment models on their mobile device in literally seconds. Franzone states that, "this technology will further reduce paper and faxes, save space, and most importantly enable technicians and restaurant operators to complete repairs more quickly and accurately. We are bringing literally a warehouse full of technical information directly to a mobile device."
http://www.partstown.com is already the leading web-site for genuine OEM restaurant parts. The Parts Town App is designed to compliment the web-site and Parts Town's customer service team. "Our customers, particularly chains and food equipment service companies, are asking for technology breakthrough's to support their business objectives. This is but one of many tools that we provide and our capabilities will be expanding rapidly in the coming months."
The first version of the App is designed to support I-Phone and I-Pad, with subsequent versions coming soon to support Android devices.
About Parts Town
Parts Town is a leading distributor of genuine OEM foodservice parts. Focused on delivering a unique customer service experience and website, Parts Town customizes solutions for both chain restaurants and food equipment service companies. Parts Town partners closely with the leading manufacturers of commercial cooking, refrigeration, ice, and beverage equipment to improve their parts supply chain, delight their customers, and grow genuine OEM parts sales.
###