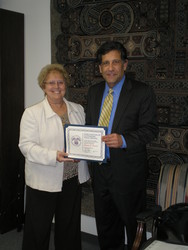 As an organization that has been rooted in Oakland County for over thirty years, we have always found it important to be able to give back to our community
Troy, MI (Vocus) November 2, 2010
AmeriCare Medical President Gregory Jamian is being honored with a certificate of appreciation from the Social Security Administration and Medicare for outstanding work within the community. Individuals from the administration visited the AmeriCare Medical office on Wednesday, Oct. 27 to provide a one-hour "Lunch & Learn" session, and also to personally present the award to Mr. Jamian and his AmeriCare staff.
"As an organization that has been rooted in Oakland County for over thirty years, we have always found it important to be able to give back to our community," says AmeriCare President Gregory Jamian. "It is an honor that to be recognized for our outreach. We hope that we can continue to make this much of an impact with our work in the future."
AmeriCare Medical is involved in numerous projects and local programs throughout the state of Michigan. The Social Security Administration and Medicare will be specifically recognizing the show "Senior Matters" on Bloomfield Public Television, sponsored by AmeriCare and hosted by President Gregory Jamian, for keeping senior citizens aware of important topics relating to them. Public Affairs Specialist Frances Heimes-Savickis of the Social Security Administration was recently on the show to discuss little-known facts about Social Security and Medicare, and what people receiving these benefits should know about what is available to them.
AmeriCare Medical likes to help the community in many other ways as well. Recently, they joined Oakland County's Medical Main Street as an ambassador. According to Executive L. Brooks Patterson, the organization was set-up "to create a global center of innovation in health care research, development and education." AmeriCare is devoted to using technology to improve efficiency and the effectiveness of health care delivery.
AmeriCare Medical also demonstrated their commitment to this need for modernized health care in the community by founding the Michigan Chapter of the National Spinal Cord Injury Association, also known as the Michigan Spinal Cord Injury Association (MSCIA), in Winter 2009. The MSICA was established with the purpose of "enhancing and empowering the lives of those with spinal cord injury and disease through advocacy, education and research."
The statewide resource center is dedicated to providing members with a portal to available community resources and support groups. The informative website, http://www.mispinalcord.org, offers a library of updated news on the latest research and technology available that are trying to uncover methods of repairing damage to the spinal cord and restoring some movement.
"We are always trying to think of ways to give back. AmeriCare works with so many people in the community, we can see where the need is and what people can benefit most from," says Stacey Murphy, Vice President of Corporate Development at AmeriCare. "We want to make sure people are getting what they need to maintain a happy and healthy lifestyle."
For more information, please call Cristina Shallal at (248) 288-2270, or visit http://www.americaremedical.com.
###