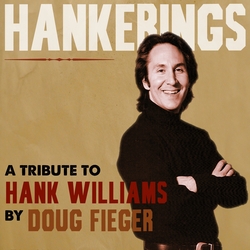 The first music I remember hearing was country, and Hank was my first hero – he was the first guy with a rock star attitude
Los Angeles, CA (Vocus) November 2, 2010
The family of Doug Fieger, lead singer of The Knack and co-writer of the #1 song My Sharona, is making available for the first time, a collection of recordings by the artist never before released in any format. Hankerings: A Tribute to Hank Williams by Doug Fieger, is the fulfillment of Fieger's dream to release an album of Williams covers. Unfortunately that dream was never realized during his lifetime due to his battle with cancer.
"The first music I remember hearing was country, and Hank was my first hero – he was the first guy with a rock star attitude," Doug is quoted as saying in a 2008 interview with Willie Mosley of Vintage Guitar Magazine. "Apart from the fact that drums weren't prominent in his music, it was proto-rock; marry it to R&B, and you have rock and roll."
Fieger had begun laying down tracks for the album in 2004, just six months after he had been diagnosed with lung cancer. He recruited longtime friend Elliot Easton (The Cars) to play lead guitar, and Bogie Bowles (Joe Bonamassa Band, Kenny Wayne Shepherd, Ozzy Osbourne) on drums, while Fieger supplied vocals, bass and rhythm guitar, but health issues and a busy touring schedule prevented the singer from completing the project. After Fieger's death earlier this year, the multi-track tapes were found in his home studio in Woodland Hills, CA.
"All of Doug's friends knew he had been recording these songs. But very few had ever heard them," explains Doug's sister, Beth Falkenstein. "After he died, everyone was asking me if I had found the tapes yet. They were all just so curious to hear them… and to hear his voice again."
It turned out the tapes only contained the tracks to four songs, and had yet to be mixed and mastered. That job fell to Richard Bosworth, who had a long collaborative history with Doug, having produced, recorded and mixed five Knack albums.
"I jumped at the chance to work with Doug again. I booked time at House of Blues Studios, where Doug and I had worked together many times. Looking at the track sheets… I realized that they were sixteen track, which is the analog format with the highest fidelity. So that was exciting," recalls Bosworth. "Doug had recorded blistering rockabilly versions of Hank's Hey Good Looking and Jambalaya, and heart felt ballad versions of I'm So Lonesome I Could Cry and I Can't Help It If I'm Still In Love With You, all with awesome vocals..."
But only one of the songs – Hey Good Lookin' – was ready for mixing. The lead guitar was missing on the other three tracks and since Bosworth was already in the studio time was short.
Bosworth called upon the one person he knew who could fill the musical gaps in the style and spirit Doug would have wanted; Knack co-founder, lead guitarist and Doug's writing partner on over fifty songs, Berton Averre. "Berton is one of the best musicians I know. He has the ability to play guitars, keyboards on any style of music you throw at him," Bosworth observes.
On a moment's notice, Berton came to the studio to overdub additional rhythm and lead guitars on all three unfinished tracks, and even added acoustic piano on I'm So Lonesome. After three decades of partnership with Fieger, the fit was instinctive, and the result was a poignant collaboration between two artists who would never again have the chance to work together.
But perhaps the true spirit and value of this release is best summed up by Elliot Easton, who was with Doug when the journey began:
"Doug's Hank Williams project was a labor of love… I'm happy that people will get to hear this surprising facet of Doug's musical personality as he obviously had a deep love and feeling for this type of music. It deserves to see the light of day."
Track Listing:
1. Hey, Good Lookin'
2. I'm So Lonesome I Could Cry
3. Jambalaya (On the Bayou)
4. I Can't Help It (If I'm Still In Love With You)
For more information, please visit: http://www.dougfieger.com
For a review copy of the album, please contact Heather Noonan at pr (at) bfmdigital (dot) com or 818-762-0191.
About BFM Digital, Inc.
BFM Digital is a global digital music company committed to serving the independent music community and delivering quality music, spoken word and video content to leading online retailers worldwide. Representing a diverse catalog of indie labels, artists and publishers, BFM distributes to all of the major music services including iTunes, Amazon, Rhapsody, eMusic, Napster, Walmart, Nokia and many more. With an unparalleled commitment to personalized service, BFM works closely with their content providers from around the world to ensure maximum exposure of their catalog by customizing marketing efforts and building strong relationships with BFM's digital store partners.
###