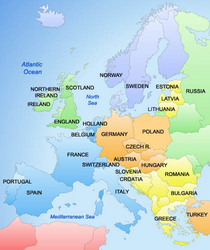 Deploying Esnatech's software enables the customer to make the right choice, based on cost efficiency, ease of integration and increased productivity.
(PRWEB) November 3, 2010
Esna Technologies Inc. (Esnatech), a market leader in enterprise Unified Communications, has opened up its European operation in the UK led by newly appointed Regional Director, Mr. Nick St. John. Nick has recently taken on full responsibility for building out the EMEA region for Esnatech. Nick has been in the telecommunications, software, and IT industry for over 25 years and has held several senior positions with large tier 1 operators including Siemens and BT.
Nick's most recent experience has been in building start-up businesses across EMEA working with partners managing new business sales, customer service, and operations teams. He will be responsible for promoting the Esnatech Unified Communications solution that ties existing voice infrastructure into Google Apps and other cloud-based applications to both existing and new partners including tier 1 operators, service providers, and systems integrators.
The immediate focus will be to manage the existing relationships Esna has in EMEA and to maximize the growth opportunities these partners have right now. The growth plans that Esna anticipates will come from developing these relationships while seeking to identify new partners across the EMEA region. This process is already underway, with unrivalled interest in Esna's products that enable businesses to integrate the software with any existing network infrastructure, onto any platform, and any application. The rip and replace strategy that many competitors deploy is not always relevant and not always in the best interests of the customer. "Deploying Esnatech's software enables the customer to make the right choice, based on cost efficiency, ease of integration and increased productivity." Nick explains.
"Esna has fantastic relationships, with each and every one of its partners who are enthused by the technology, the opportunity to make incremental revenues and to be part of the growth we are already seeing in cloud-based services. Additionally, working in tight integration with valued partners such as Google was an opportunity too good to miss. We are better placed than any technology company in this space, have a 21 year history in delivering software services to corporates, with over 1 million seats already using our software and nimble enough to react to market need which will result in opportunity for the channel," Nick expands.
"I am extremely excited by the opportunity to grow the Esna business into the EMEA region with our award-winning software. We have a legacy in delivering software to enterprises and with our latest software release of Office-LinX 8.0, we are better placed than ever to launch our partner program into EMEA," Nick St. John, Head of EMEA region, Esnatech.
Esnatech's Office-LinX™ UC gateway for Google™ Applications changes the landscape and starting point for business communications. Now, any business, regardless of size or budget, can increase employee productivity and effectiveness while dramatically improving customer satisfaction simply by investing in an Office-LinX UC gateway and subscribing to Google™ Apps! No need for a new phone system, no need for any changes to your office hardware.
If you wish to unify and simplify your communications, there is only one place to go. Esnatech provides a turnkey unified communications solution; mobility, presence, messaging across every platform for every business.
For more information, visit http://www.uc4googleapps.com
Contact Information:
Nick St. John, Head of EMEA Region, Esnatech
Office: +1 905 707 9700
Direct single number reach: +1 905 707 4546
Mobile: +44 7825 870750
About Office-LinX™
Esnatech's Office-LinX is a multi-OS, unified communications service that delivers rich presence, mobility and messaging for the Office-LinX UC platform. The Esnatech UC server is already tightly integrated with all major PBXs and VoIP services and it provides Mobile UC services to RIM BlackBerry, Apple iPhone/iPod/iPad, Google Android, Windows Mobile, and Symbian devices. Esnatech's UC platform can be deployed as a standalone UC solution or as an integrated application to existing PBXs and messaging solutions such as OCTel voice mail platforms.
About Esnatech
Founded in 1989, Esnatech's mission is to provide communication solutions that are simply the best way to communicate! Esnatech solutions empower organizations by giving them the flexibility to conduct business at any time, from anywhere, so they can manage the information they need, when they need it. Esnatech markets and distributes its products through OEM and VAR partners in 28 countries with over 1 million users deployed worldwide. For more information, visit: http://www.esnatech.com
Press Only Information:
Davide Petramala | VP Sales & Marketing, Esna Technologies Inc.
Tel: 905-762-5914
Email: davidep(at)esna(dot)com
For more information on Esnatech Unified Communication products: http://www.esnatech.com/products.htm
NOTE TO EDITORS: If you are interested in viewing additional information about Esnatech, please visit the http://www.esnatech.com. Web links, telephone numbers and titles were correct at time of publication, but may since have changed. For additional assistance, journalists and analysts may contact our marketing department (marketing(at)esna(dot)com). All trademarks mentioned herein are the sole property of their respective owners.
###