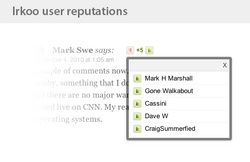 Reputation or karma systems are proven to increase user content quality. Irkoo is a nice and fast way to make it work.
Alexandria, VA (PRWEB) November 11, 2010
The Irkoo user ranking system is a web service. All the reputation calculation and vote processing is done in a cloud. This makes it fast to start using and avoids extra coding hours or even days.
To make it work, a website author referrers Irkoo JavaScript and defines places of the website where voting buttons and user reputation points should appear. Typically, voting buttons are placed near comments, posts, messages or other content made by users. While user reputation points look good right after user names or in profile pages.
Irkoo works either in IP-based mode, or uses supplied user IDs to identify voters. While being ready to use out-of-box, Irkoo has customizable design. Voting widget, popup notifications, messages, styles - all can be changed by developer. Additionally, an Irkoo control panel allows changing voting rules, set minimum vote up and down requirements or alter reputation calculation algorithm mode. Once a deeper integration is required, a set of user reputation data can be utilized through the Irkoo API in form of XML, JSONP or HTML.
Irkoo website describes generic setup steps for easy embedding user ranking system into an arbitrary website and comment system. Additionally, users of popular forum and blog platforms like phpBB and WordPress and other will be pleased to use the detailed instructions for the engine they use. Furthermore, Irkoo developers are looking forward to prepare detailed instruction for other popular engines.
Reputation or karma systems are proven to increase user content quality and commit community to self-moderation. It is also known that members make better decisions based on reputation score of the author and voting points of the message. This makes website content more valuable from the visitor perspective, increases external references and boosts website ranks. Today, top websites across the world are integrating user reputations into their communities. To help it happen, Irkoo launches the web service that adds reputations to any website with the simplest steps possible.
See the service website: http://irkoo.com/
# # #