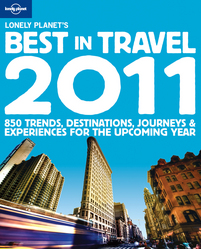 Oakland, CA (Vocus) November 3, 2010
Your Traveling Year Starts Here: Best in Travel 2011
The latest edition of Lonely Planet's highly-anticipated travel annual has the hottest trends, destinations and experiences for the year ahead. Full of fresh ideas for where to go and what to see, Best in Travel 2011 gives you the inspiration to get out and explore, near or far. After receiving hundreds of ideas from everyone at Lonely Planet – including our extended family of travelers, bloggers and tweeters – the "best" list was whittled down by a panel of in-house travel experts, including Lonely Planet co-founder Tony Wheeler.
Best in Travel 2011 is a new take on this classic series. For the first time, we rank the top 10 countries, cities and regions in order, and we're looking forward to the debates that are sure to come! Top scoring destinations to visit this year are Europe's last frontier, Albania; Egypt's fast-changing Sinai Peninsula; and the endlessly exciting New York City.
There are scores of other lists too, from our ever-popular Best Value Destinations to Best Secret Islands and Top 10 Countries That Didn't Exist 20 Years Ago. And in keeping with pop culture, there are some new niches – vampire-spotting locales, anyone? We also include a month-by-month travel planner of festivals and events for 2011.
This next year promises to be a wonderful one for globe-trotters. Kick-start your best adventures yet with Best in Travel 2011!
About the Book:
Best in Travel 2011
208pp, full color, 7 x 5.7"
Paperback, $14.99
###